Granita, Islington – May 1994
The dinner date between the two front benchers was always destined to become the stuff of political legend. It was here, next to Jeremy Corbyn's Islington constituency, that the future Prime Minister and the Chancellor thrashed out the future of New Labour.
The following day Brown, the once heir apparent to the Labour crown, announced to the world that he would not be standing for the Labour leadership.
Only 19 days had passed since the death of John Smith. Neither Blair nor Brown had expected the decision of succession to come so soon. But they had always agreed that only one of them would stand. When the moment came, one would have to step aside and Blair knew it wouldn't be him.
The seeds for the decline in friendship actually predate the death of John Smith – at least in Blair's mind anyway. In 1992, when Kinnock resigned, Blair pushed Brown to challenge for the leadership. Blair did not feel Smith was radical enough to modernise. It is not known whether Brown even contemplated running, but from that moment on, Blair believed he was on his own.
Granita seemed the natural place for the meeting on the night of Tuesday, May 31, 1994. In 1993, Granita had been named 'best new restaurant' by Time Out. A product of its time, Granita represented everything Blair wanted the Labour party to become; popular, minimalist and cosmopolitan. If ever there was a place to symbolise the New Labour way, this was it.
Ed Balls and Gordon Brown took a taxi to Granita that night, but Balls did not stay for food. Balls would regret not staying. Blair and Brown both wearing suits, ate at the back of the restaurant with the most minimal of fuss. The paparazzi were outside, eager to snap a celebrity for their gossip pages. Unfortunately, they weren't there to capture political history in the making. Instead their attention was focussed on Susan Tully, who was dining at the front.
At the time, Susan was playing Michelle Fowler in EastEnders and had recently hit the tabloids for a storyline involving a shooting in being The Vic. She courted the kind of media attention Blair and Brown could only dream of. Brown had spotted the EastEnders actress on his way in, told Blair and they both turned and waved to her.
For years the key players denied the meeting took place. It was only in 2010, fighting for political survival, that Brown admitted a pact had been made. But not at Granita. Brown claimed:
"There was no deal struck at Granita's. That's been one of the great myths and people have written about it. I'd already agreed with Tony before that dinner that he would stand for the leadership and I would stay on as the shadow chancellor, as the person in charge of economic policy. And there's an understanding that at some point Tony would stand down and he would support me if, when, that was the case. And that's where we left it."
Indeed, Harriet Harman had already told Brown that she would be supporting Blair – something that came as a huge blow to him, considering she was Gordon's deputy. Alistair Campbell, who had a good relationship with both, had told Newsnight he thought Blair would win. Peter Mandelson, meanwhile, was briefing the press in the days before Granita that Brown was preparing to step aside. Brown saw this as a calculated plot against him, and would harbour the resentment until the dying days of New Labour.
In years since, a note drafted by Peter Mandelson for Brown, dated June 1, 1994, has emerged. It makes clear that Blair agreed to Brown's "fairness agenda – social justice, employment opportunities and skills". The original note had the phrase: 'Tony is in full agreement with this.'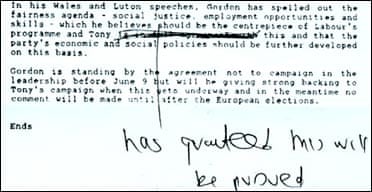 This is then crossed out by Brown's handwriting and replaced with a stronger statement, declaring: "[Tony] has guaranteed this will be pursued'
Much of what occurred in later years can be pinpointed to this moment. Key Blairite and Brownite aides, have lamented the fact they did not attend the meeting. As only Blair and Brown had been there, there are only two stories that can be told about any agreement that was reached.
The dinner was lauded as one of the defining moments in the drama that was New Labour. It became the subject of an excellent Channel Four docu-drama, The Deal, starring Michael Sheen as Tony Blair, and David Morrissey as Gordon Brown.
As for Granita, it closed in 2003, the same year Blair sowed the seeds of his own downfall by taking the country to war in Iraq. It was replaced by a tex-mex restaurant called Desperados.
It's now home to a local estate agent, which sells properties in Islington for over £4m. Perhaps that embodies the New Labour era more than Granita ever could.