1986. Labour NEC votes to expel members of Militant after a report finds it operating as a 'party within a party'
The report claims 'threats and acts of physical intimidation' and numerous 'constitutional and organisational breaches' occurred in Liverpool
———————
The inquiry into Militant in Liverpool was instigated by David Blunkett as a compromise. Following Kinnock's famous attack on Militant at the 1985 conference, Blunkett suggested the trade unions investigate their finances and recommend a course of action.
After the findings were rejected by the City Council, the Labour NEC instigated a motion to investigate the 'procedures and practices of Liverpool District Labour Party' on November 26th1985.
After a seven hour meeting the NEC voted by 21 votes to five for an investigation. Tony Benn, Eric Heffer, Joan Maynard, Dennis Skinner and Frances Curran opposed it.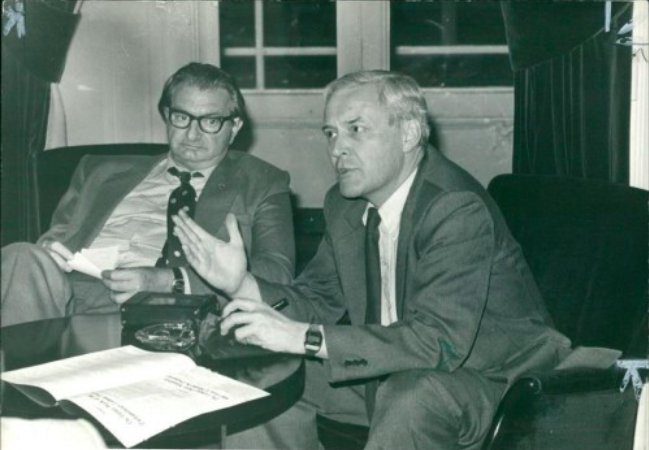 Tony Mulhern, President of the DLP, called the instigation
'absolutely incredible. Rather than calling for an inquiry, they should have been striking a medal to pin on the chests of every single Liverpool Labour delegate because of the magnificent campaign it has fought'.
The Guardian reported that Labour were worried that they would be 'opening a can of worms' believing that a report 'will show that the district party is riddled with abuse of power and subversion of party rules'.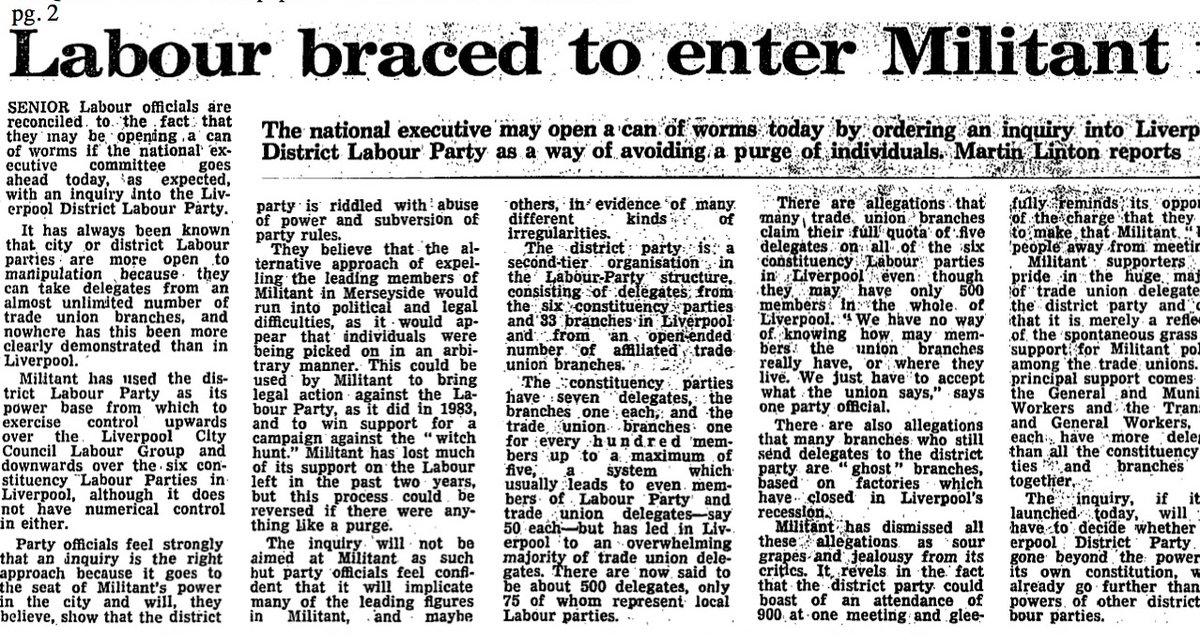 Militant rejected the allegations as 'jealousy' from its critics. It argued that its district party can boast of attendances at meeting of over 900 people.
Militant claimed that 'the ruling class wants a tame Labour Party with the spectre of Militant and socialism exorcised'.
They claimed 'if they rid the party of Militant, then no doubt Tony Benn, Eric Heffer, Arthur Scargill. Where will it end?'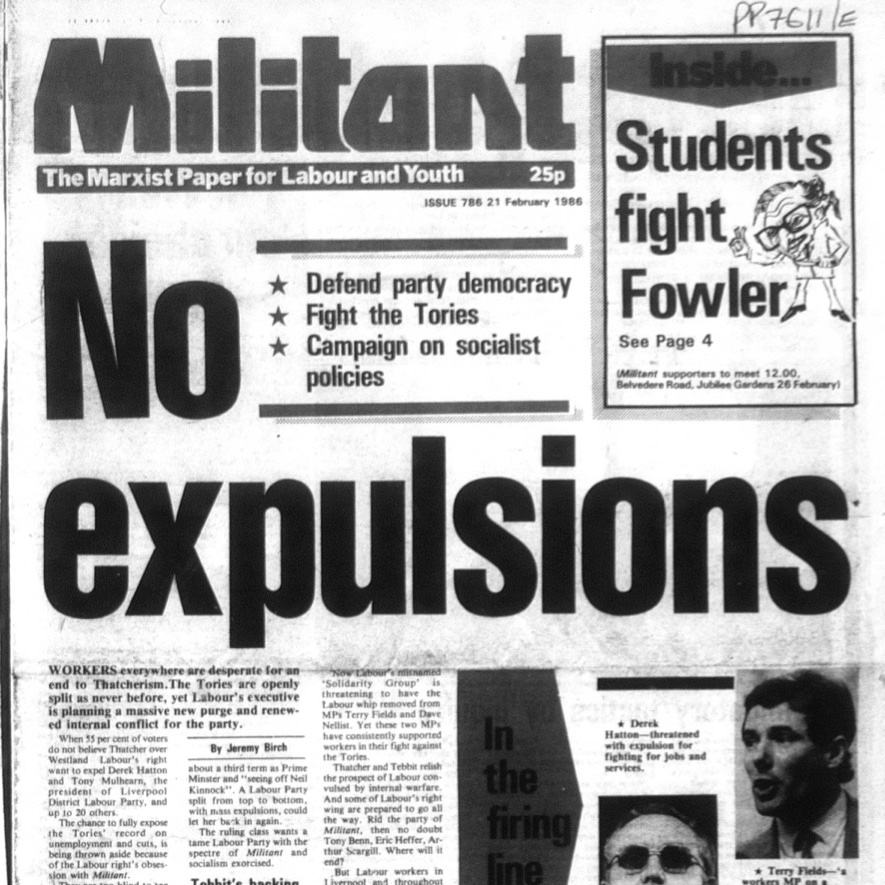 AsChristopher Massey's recent article has shown, the Inquiry team met on fourteen occasions to interview local members and to examine DLP records. They interviewed  over 120 members and received 106 written pieces of evidence, of which 51 were critical and 55 were supportive.
Massey has highlighted the 'most comprehensive new evidence' was from the Liverpool Black Caucus. Their submission claimed there was 'corruption and the manipulation' within Liverpool Council with 'the arbitrary use of funding for political sectarian motives, and the irresponsible and divisive treatment of black groups in the city.'
The appointment of Sam Bond – an unknown Londoner who supported Militant – to the Liverpool Race Relations Liaison Committee caused much controversy and was seen as a huge strategic mistake.
The investigation concluded with two proposals: the Majority and Minority Reports. The Majority Report was issued by all of the investigation team bar Margaret Beckett and Audrey Wise, who had formulated the Minority Report.
The final report found seven main areas where it had 'severely damaged the reputation of the Labour Party amongst some of our own members and the electorate as a whole'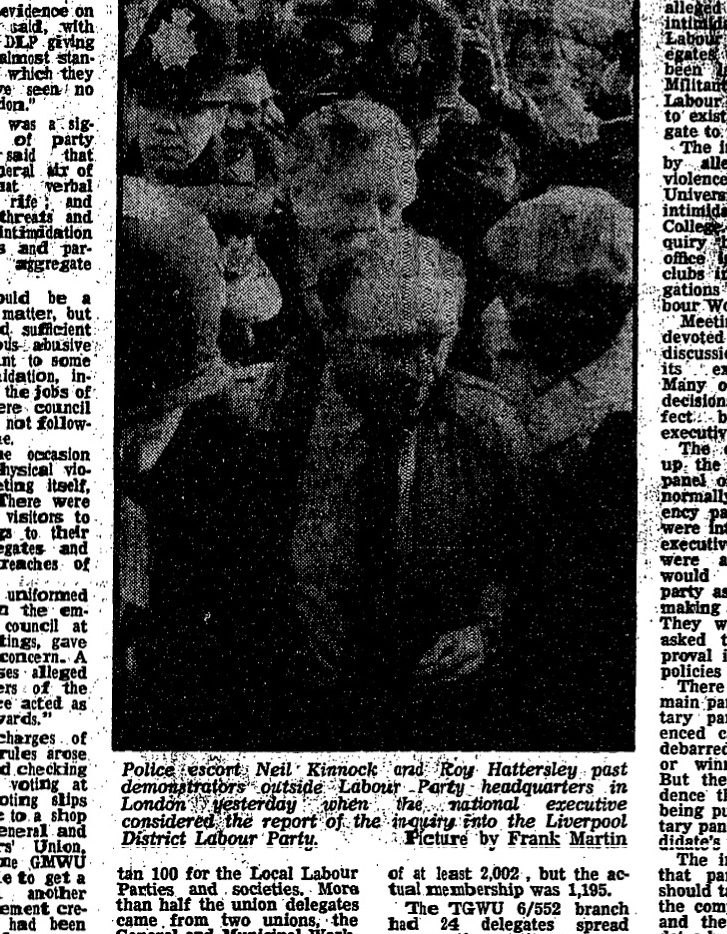 The report claimed there was a significant number of members who said that there was 'a general air of intimidation' and that 'verbal intimidation' was rife. It also referenced 'threats and acts of physical intimidation' and numerous 'constitutional and organisational breaches of standing orders and rules'
The report concluded that Militant in Liverpool was an organisation with its 'own programme, principles, and policy for distinctive and separate propaganda' and that members of Militant 'would therefore be ineligible for membership under Clause II(4)b of the Constitution of the Labour Party.
As a consequence, the report recommended that sixteen members be expelled from Labour.
The crunch meeting came on 26 February 1986, when the NEC would decide whether to accept the findings. Prior to the result, the NEC voting was usually split 15-14 down the centre right and hard left groups.
Outside Kinnock and Roy Hattersley were met with a 'cascade of abuse' from 600 Militant supporters as he tried to attend the meeting at Walworth road. He was met with chants of 'class traitor' 'scab' and 'kick him out'.
During another seven hour meeting, Eric Heffer told Kinnock that he would 'never forgive' him for making the speech at Bournemouth. He accused the party of having a 'death wish' for opening the inquiry
Dennis Skinner spoke up for Militant and accused Kinnock of 'kicking people when they are down'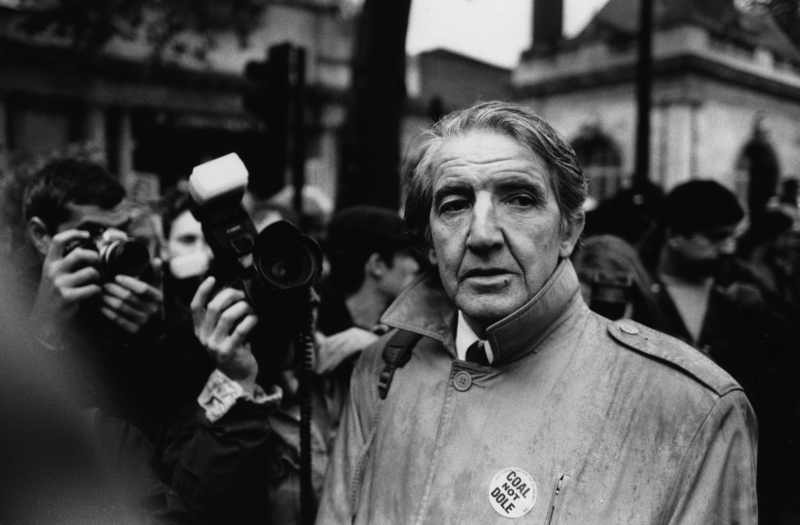 In response Kinnock quoted Martin Luther King:
'All it takes for the triumph of evil is that the good people do nothing'
and told Eric Heffer:
'You Eric, are one of those good people – you did not have the courage to act otherwise'.
Kinnock defended the report and claimed it was evidence of an 'unconstitutional organisation' and that 'it is our duty (to take action).
'We must protect democratic socialism and the integrity of the Labour Party'
Denying allegations of a witch hunt – as Tony Benn had claimed – Kinnock argued
'Witch hunts pursue the innocent unjustly. We treat the guilty with painstaking fairness… This is not a witch hunt, it is a democratic part using its democracy to uphold democracy'
Kinnock warned that an 'open church' did not include Militant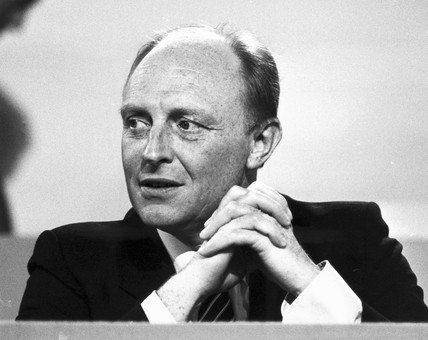 'People talk of a broad church party. A church with an open door is still a church, a church without walls however is an open space to be trampled on'
'Those who would have no boundaries, no limits, no walls for this party simply are not serious about this party and don't deserve to be taken seriously'
Kinnock warned that:
'We're not intimated by threats of civil war and court injunctions. We will not buckle any more than the people of courage who told the truth about Militant in Liverpool buckled to threats'
The report was approved by nineteen votes to ten. The decision was seen as a huge turning point for Kinnock's leadership of the party with David Blunkett, Eddie Haigh, Michael Meacher and Tom Sawyer finally detaching themselves from the Bennite left of the NEC.