In 1988, Tony Benn challenged Neil Kinnock for the leadership of the Labour Party. The story of the campaign often overlooked by historians.
——————–
Rumours began in January 1988 that Kinnock would face a challenge from the left of the party.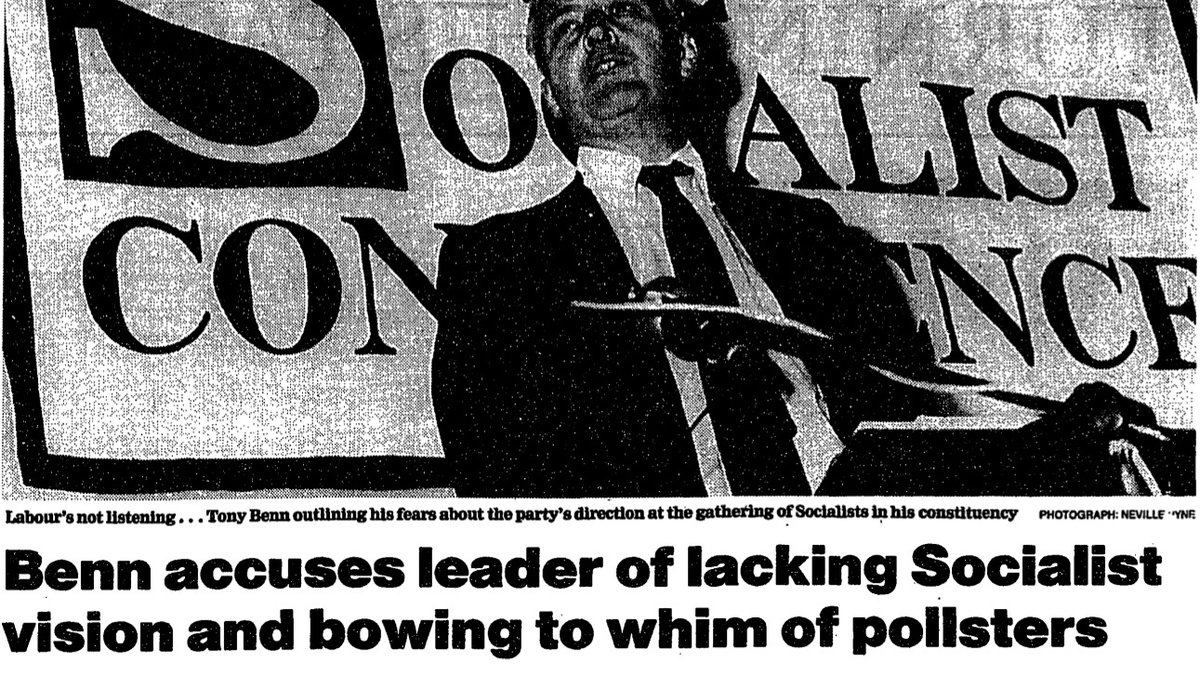 Tony Benn claimed Kinnock was 'increasingly intolerant' and 'authoritarian' in his manner and 'gave a general impression of indecisiveness and weakness' on the policy.
Benn claimed pollsters and PR had 'replaced policy-making and political campaigning'.
Benn argued that Labour should be responding radically to Thatcher's 'police state' and that 'we are fighting a very hard right and they can only be beaten by a left that fights very hard'
In response, Peter Mandelson – Labour's Director of Communications – declared 'the more wild and bizarre they become, the better for us'.
The 45 MPs in the Campaign Group agreed that one of them would do it and promised to make a 'concerted campaign for socialism' with Audrey Wise and Tony Benn seen as the most likely options.
Neil Kinnock called the tactics a 'stupid diversion' and that 'any contest would be treated with enormous hostility by the whole Labour Party'
Kinnock dismissed Jeremy Corbyn and the left-wing Campaign Group as the 'Champagne Group' as 'self-enthroned revolutionaries' who would rather 'beat their chests than beat the Tories'
Tony Benn swiped back that 'I genuinely do not believe the Labour Party is electable if we pursue the present course'
Eric Heffer agreed: 'We are becoming a centralised and autocratic force with the leader's office dominating the party'
On March 24th1988 Benn finally launched his campaign. Benn claimed the contest 'would offer members an opportunity to choose a different course for the Labour Party'. Eric Heffer would run alongside him for Deputy.
Heffer claimed the time had 'come for a crusade for socialism', to defeat Thatcher and the society that 'was for the greedy not the needy'.
'That means a real fight for socialism. I regard this decision as an essential part of that fight to get the Tories out and get a socialist government in'
Benn claimed 'we want a party that commits it to its roots, which retains its commitment to socialist values and does not distance itself from them'
Clare Short was critical of the contest as 'the sort of old-fashioned heroic men all contesting with each other to try to sort out the problems of the Labour Party'.
Kinnock dismissed  'it is daft and absurd. I do not mind it being daft but I am very hostile to it being damaging. There can be nobody who wants Labour to win who thinks this can do the public standing of the party any good'
'When that decision has been taken by two experienced politicians they must know that and they simply do not care very much about winning the election that matters the most: the general election'
Deputy Roy Hattersley agreed 'When the majority of the Labour movement want to combat the Tory offensives against the health service, and the poor, these people have chosen to turn inward. Only our foes will be pleased'
Jeremy Corbyn, the secretary of the Campaign Group, dismissed claims that Benn had only 15 MPs backing the move. However, three members – Jo Richardson, Clare Short and Margaret Beckett – quit in protest.
Clare Short saw it as a 'waste of everyone's time' while Bill Jordan the President of the Engineering Union claimed 'the left has had to resort to grave robbing to find two candidates.
When Tony Benn was asked what his chances were of winning he replied: 'It depends what you mean by winning'
Benn dismissed claims his policies were unelectable:
'The real problem for the Labour Party is not that we have not persuaded the electorate to support our policies but we have never persuaded our leaders to support our policies'
Benn claimed that it was the soft left – through people such as Michael Foot – that had caused Labour's decline
'Those who argue that our policy was unpopular seem to forget that our problem lay closer to home. Labour's claim to be the party of peace had been undermined in 1982 by the opportunistic and unprincipled support for the Falklands War
Foot angrily replied that it just proved 'the lengths Benn will go to in order to give a distorted view of history and damage the Labour Party'. Foot claimed the Falklands was supported by the Labour NEC, Labour MPs and the United Nations charter 'in opposition to fascist aggression'
Benn argued that 'millions of people are impatiently waiting for a stronger and more courageous lead from Labour.. public opinion is miles ahead of the Labour leadership'
In a coded attack on Mandelson, Benn warned that 'advertising slogans are no substitute for a principled stand on the central issues of peace, jobs and social justice'.
Benn also called for an annual leadership challenge 'it does not end with the electoral college in October' and Labour's policy positions 'superficial in its analysis, weak in its remedies, defensive in its posture and vague in its approach'
Benn and Heffer's policy platform – outlined in the Campaign Group 'Agenda for Labour' caused controversy when it advocated 'the right of all people to follow their conscientious beliefs even if it involves them breaking the law'
'We also know that those who break the law on moral grounds may face punishment for their beliefs and the final verdict on their actions will rest with the public and with history'
Jon Lansman – the key organiser of the Benn campaign – claimed 'by the end of the campaign we will have legitimised dissent by having a debate…If we did not do it many would have dropped out of active politics'
Kinnock urged the party to 'get real':
'Free yourselves from impossible promises, address yourselves to the realities of today and tomorrow, produce the policies and get the power to implement them for Britain as it is and will be'
Kinnock attacked the 'loudmouth left': 'you need a majority to win. You only need a loudmouth minority to lose…we have got to make sure that there are no diversions nor distractions'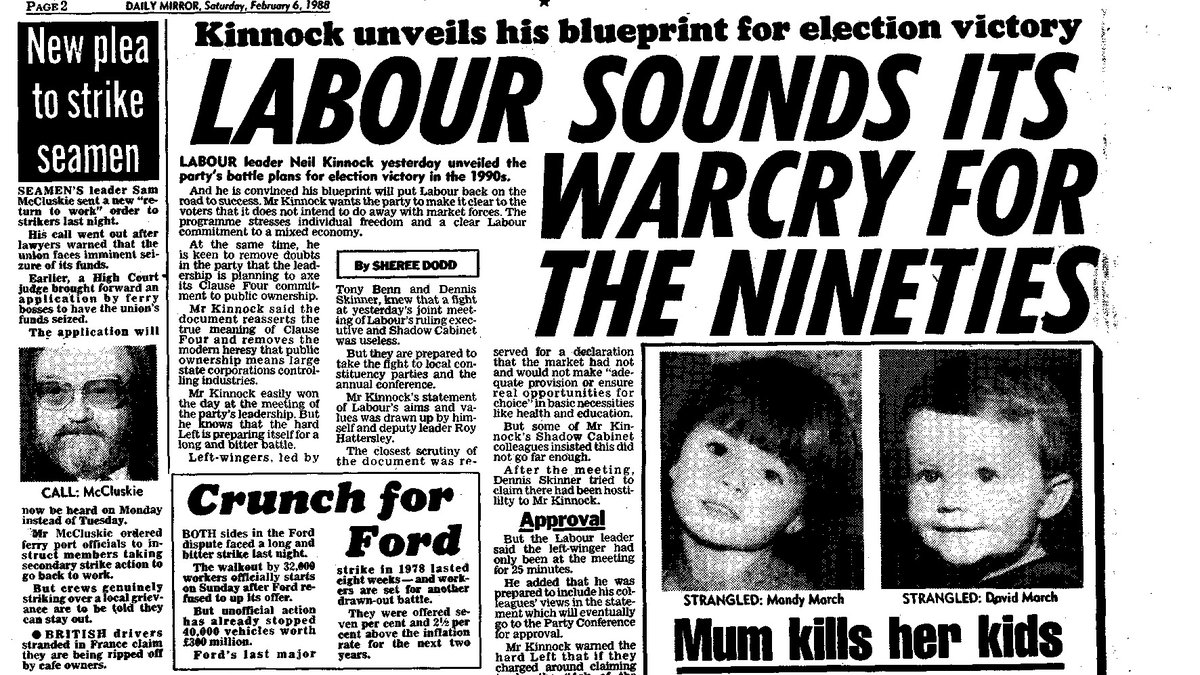 Denis Healey intervened to welcome the contest:
'If they stand up to this and appeal to the country and the union members it could prove a great force to strengthen the party'.
Kinnock rejected allegations that he was a 'tyrant' arguing that Benn 'must have had a pretty soft political upbringing'
In May 1988, a party committee accepted proposals to shift the party's policy stance away from nationalisation. Kinnock claimed there was 'universal consensus' that old school nationalisation was dead.
Yet over a month period, Kinnock's leadership was hit by a row of unilateralism and a trip to South Africa. His poll ratings 'hit an all-time low'.
A poll of 77 Labour MPs highlighted his weakness. Kinnock had the backing of 39% of them, John Smith was favoured to be a leader by 19% while 14% wanted Benn to take them into the 1992 election.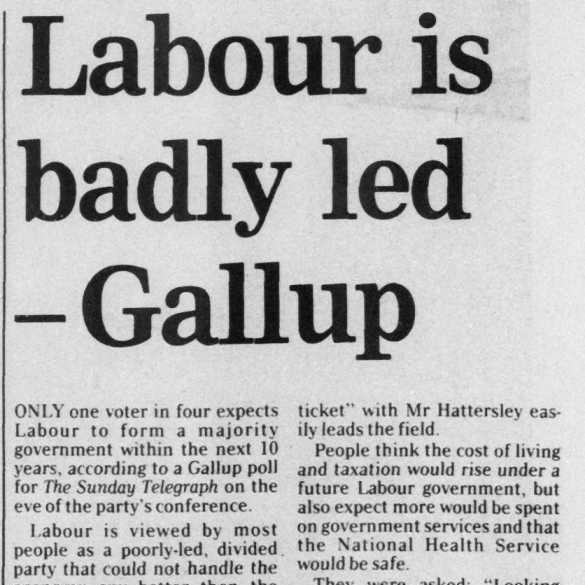 A wider poll showed that only 25% of the public expected Labour to win an election by 1997 and 71% of people felt the part was 'too split and divided' to govern effectively
Bryan Gould became one of the first Labour MPs to accept that elements of Thatcherism had been a success:
'Perhaps some of its destruction of the economic consensus and structures of the sixties and seventies was necessary, even if done in the most damaging way'.
At a Socialist Conference in Sheffield, Benn challenged Kinnock to head to head debates. Alice Mahon – a left-wing Labour MP called him 'a nonchalant, weak man'.
At a Fabian Society speech, Kinnock claimed he would defeat the 'frozen attitudes of the far-left' who threatened to turn the party into a 'monument':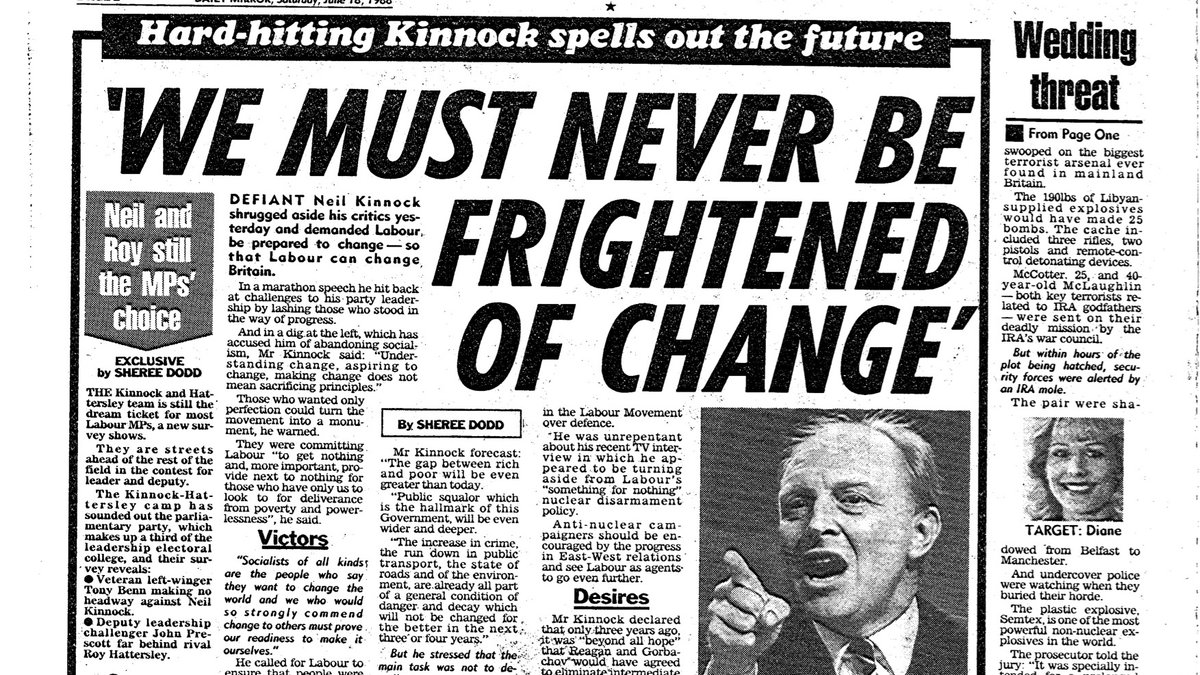 He called for the party be brave:
'It will daunt those that think that socialism has a vested interest in frozen attitudes, those who want to go on ignoring realities and aspirations and those who want socialism to be a permanent movement for protest and condolences'
Roy Hattersley added that the party was being undermined by 'unrepresentative loudmouths and lunatics'
With Labour trailing the Tories by 12pts in the polls, Robin Cook admitted that Labour might not win the 1992 election and that the best hope might be for a minority government
Cook's intervention caused anger on the left. Jeremy Corbyn claimed he was 'very angry' at Cook and that 'appeasement and defeatism would not defeat the Tories'
At the NUM Conference, Kinnock launched his strongest attack on the left of the party, claiming he would refuse to 'take Labour into an ultra-leftist Disneyland'.
Benn received the support of the NUM President Arthur Scargill who endorsed Benn as 'the best Labour Party leader'. Scargill dismissed Kinnock's 'flavour of the month' strategy' which 'clashed with every basic principle of Socialist thought and with the history of human progress'.
Hattersley claimed Scargill was 'living in 1848' '. He claimed he despised 'those people who are prepared to sacrifice the chances of the Labour Party in order to foster their own ego's'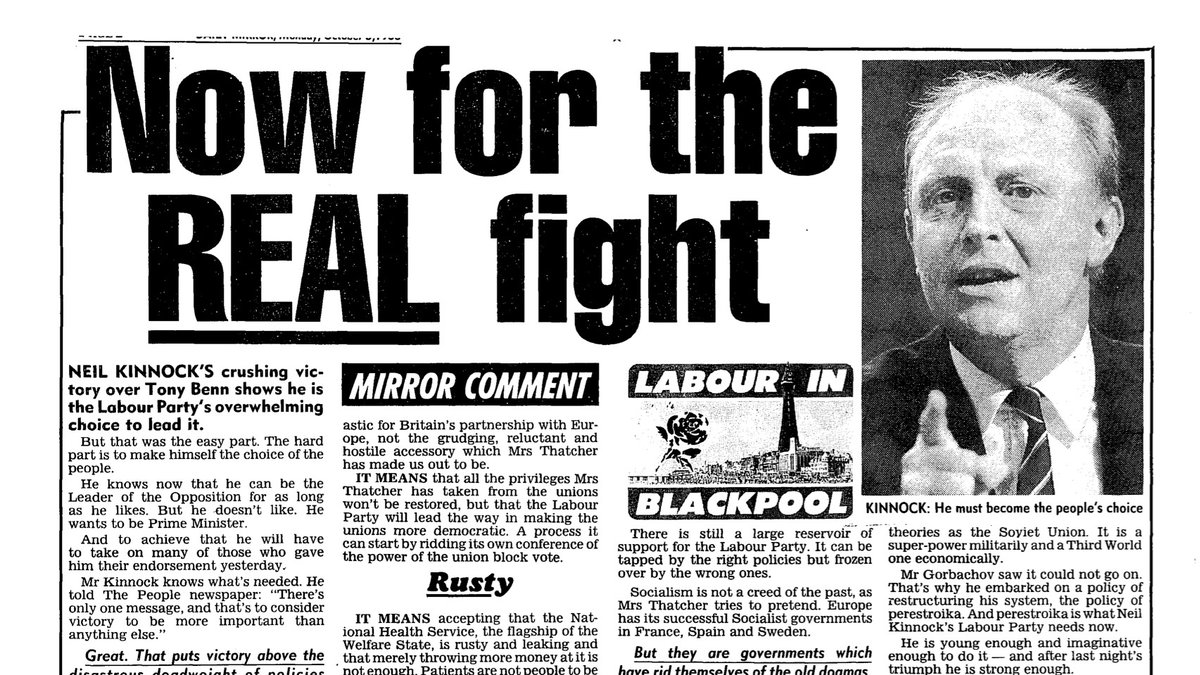 Kinnock laid out his plans to reform the party's 'boring image' and hoped to reform the constituency party meetings that were dominated by an obsessive left, unrepresentative of both the party and the constituency.
In the aftermath, Jon Lansman argued that the left must continue its fight and demanded 'a programme of rallies and publications, leaflets and conferences to be drawn' to build on the result.
The Campaign Group meanwhile argued that the number of 'votes were not the key issue' and claimed that Benn had shifted Labour's policy stance in a number of areas through debates.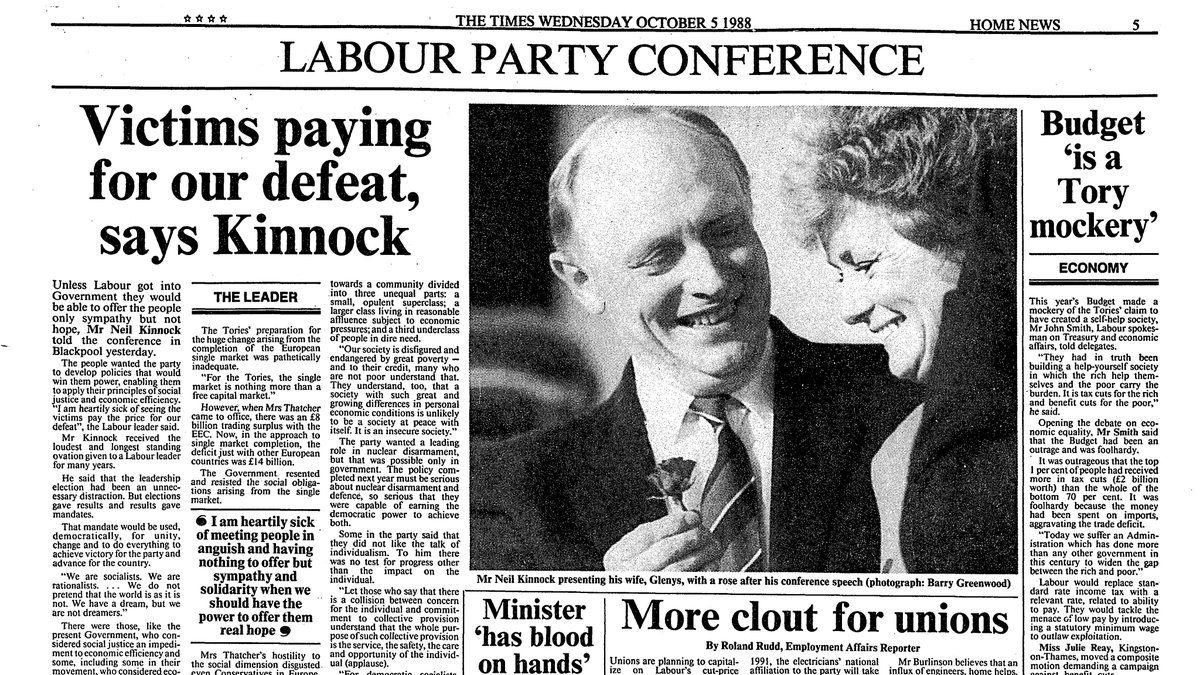 Roy Hattersley however claimed it was a moment of triumph: 'after October Labour will be more representative, more sympathetic to the views of potential voters, more in tune with the needs and instincts of our time'.
Neil Kinnock concluded that his victory was a mandate for change on defence, foreign policy and Europe: 'Elections have results and results give mandates.
'We are socialists. We are rationalists…we do not pretend that the world is as it is not. We have a dream but we are not dreamers'
'I am heartily sick of seeing the victims pay the price for our defeat and having nothing to offer but sympathy and solidarity when we should have the power to offer real hope'