May 1997. A Labour Landslide. On a swing of 8.8%, Labour win 418 seats giving Tony Blair a majority of 179.
In their worst election defeat since 1906 the Tories retain just 165 MPs, with their smallest share of the vote since 1832.
The story of the campaign
Labour entered the campaign on the back of a fifty month double digit poll lead, which spanned back to December 1993.
Peter Kellner argued that a Tory victory would 'be the biggest upset of the post war era. Labour's poll lead is unprecedented in both size and duration for an opposition'.
Kellner predicted that Britain was heading for 'one of the greatest political migrations it has ever seen'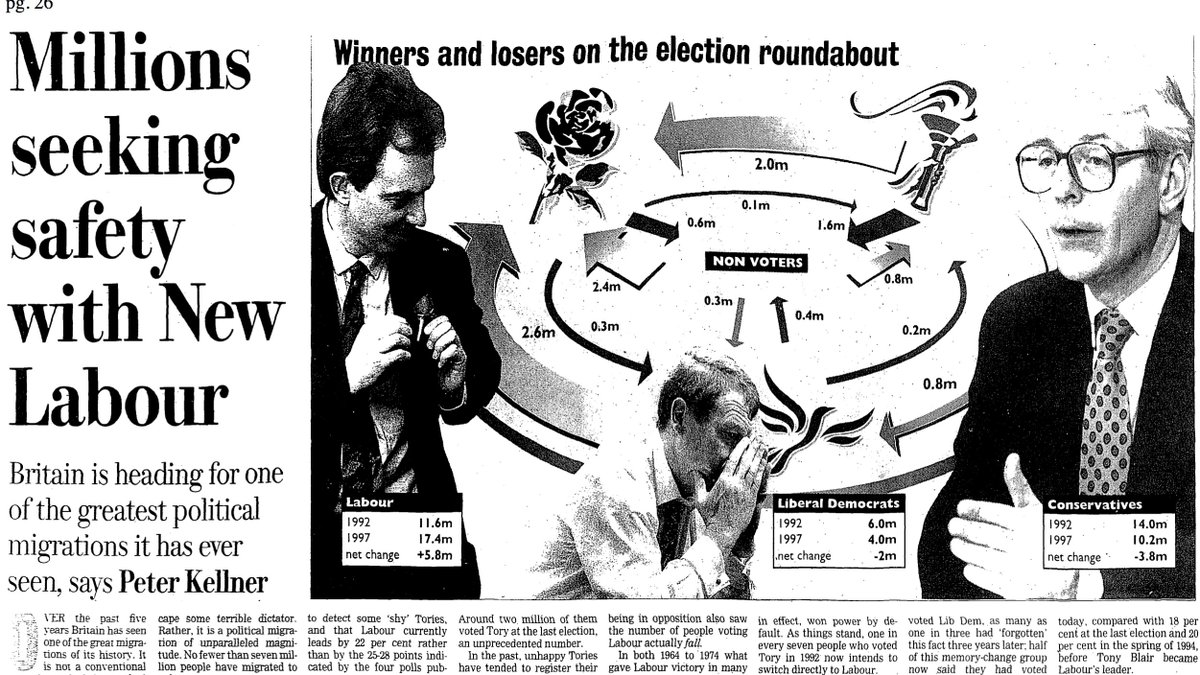 The bookmakers opened up the campaign with Labour as favourites (1/4) a Tory majority (4/1) and a hung parliament priced at (10/3). Labour were predicted by the spread markets to win a majority of 40.
One enthusiastic Labour backer drew £25,000 from his building society account to back Labour at 1 / 4.
The battle lines were drawn as 'Britain is Booming' vs 'Britain Deserves Better'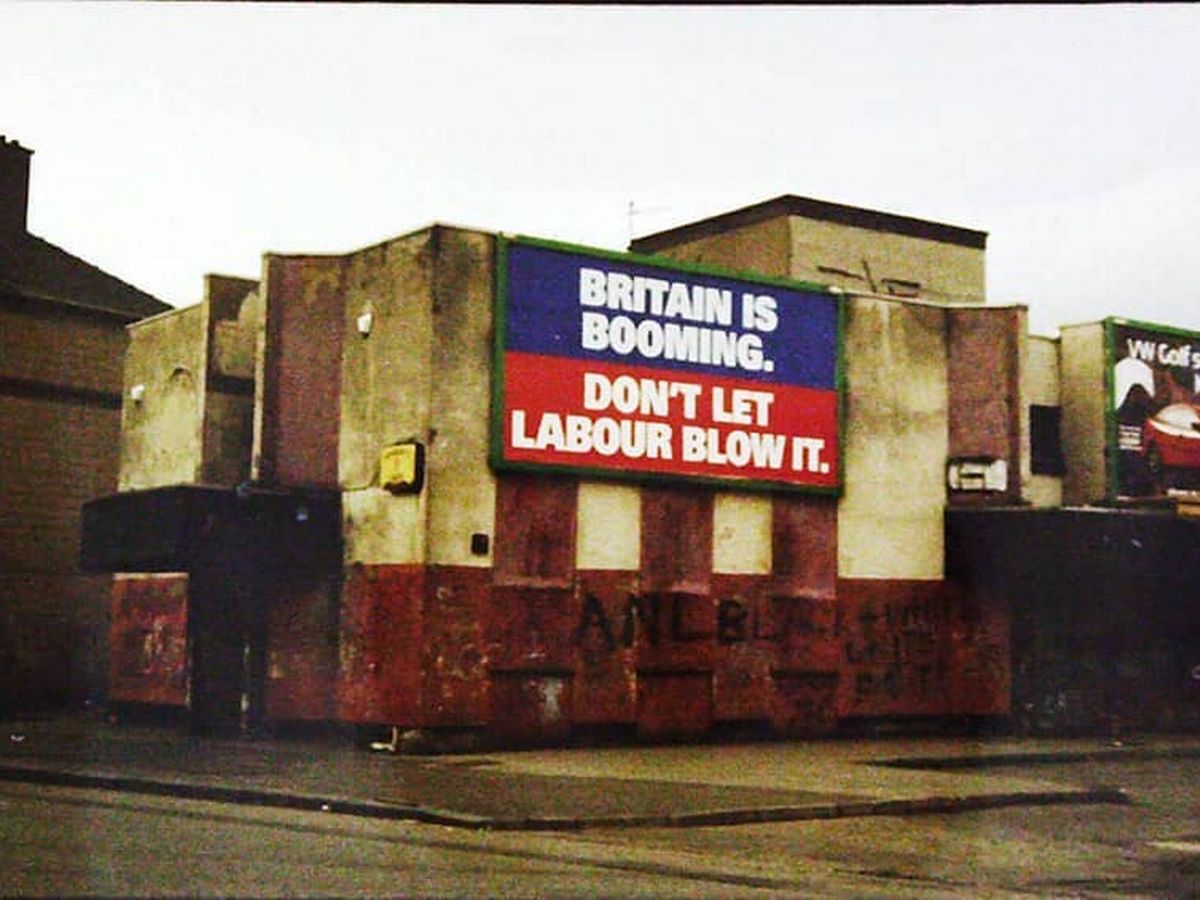 Polling showed at the end of the campaign that Labour's message resonated by 84% to 7%.
Major opted for a long campaign – spanning six weeks – in the hope that it would undermine Blair's support.
Michael Heseltine told reporters that the Conservatives 'deserved to win – we have the best economy in Europe because Conservative policies made that possible'
Prime Minister John Major kicked off the campaign in Luton promising reform of his government:
'I want a new government to come in with different values and priorities to lead a national renewal which will be at the heart of everything we want to achieve'.
Blair, speaking from a school on the BBC, warned
'It is true that there is a great deal of support for us, but we take absolutely nothing for granted'
Paddy Ashdown pitched the Lib Dems to the left of Labour
'Labour has now adopted the Conservatives budget and will spend less on the NHS'
The Sun newspaper came out for Labour.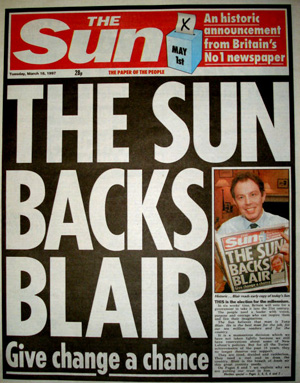 Margaret Thatcher made a final last minute attempt to change Rupert Murdoch's mind but failed.
The paper's editorial claimed: 'The people need a leader with vision, purpose and courage who can inspire them and fire their imagination. The Sun believes that man is Tony Blair'
But the editor Stuart Hogg admitted it was with a heavy heart
'The Tories are tired, divided and need a good rest to regroup. The Tories have all the right policies but all the wrong faces'.
'Let them be under no illusions that we are going to give them an easy ride'
The same night, Blair was interviewed on Paxman about whether he was still as Socialist. The programme can be viewed here
https://www.youtube.com/watch?v=2wvMlVVl1Ec&t=781s
In the studio debate, Polly Toynbee declared it a 'very dark day for journalism and a very dark day for democracy' believing it was a move by Murdoch to influence the government. Peter Riddell accused her of being 'too conspiratorial about these things'
Much media attention was placed on the negotiations for a television debate. Neither side could agree to one. Gordon Brown did however debate Kenneth Clarke
Brown promised to 'end the cycle of boom and bust and build a recovery that lasts'
https://www.youtube.com/watch?v=GMVvvUN57Y4
Tony Blair set out his pitch to former Tory voters: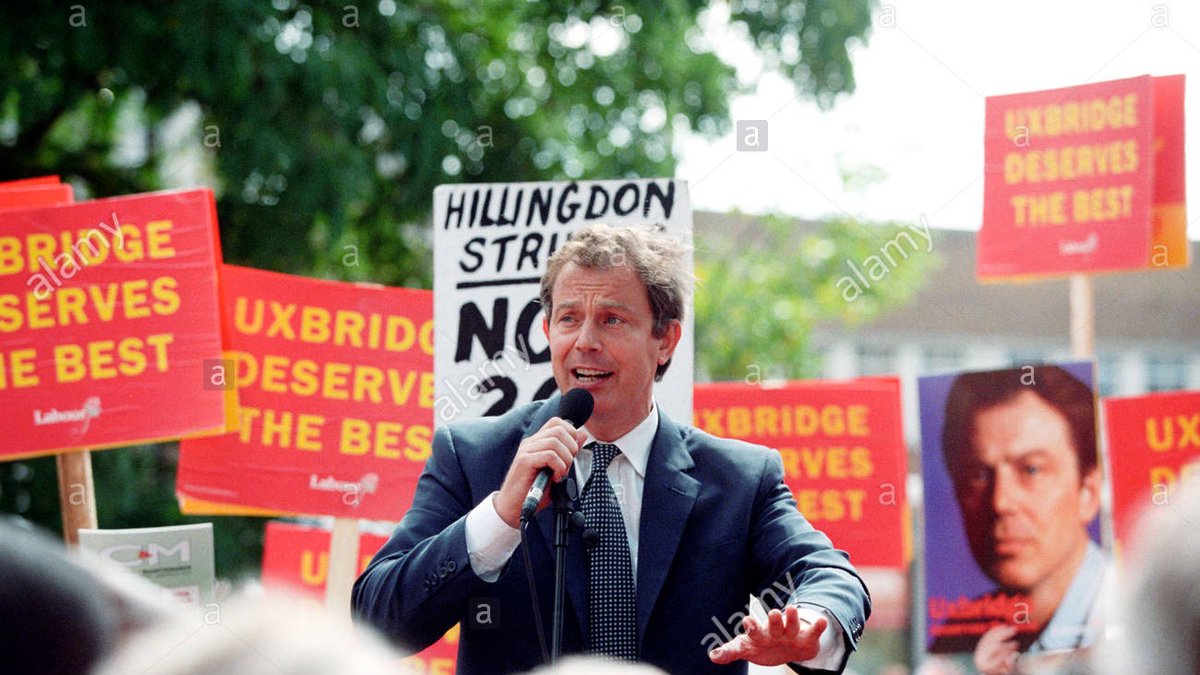 'We do not promise the earth. We do not hail a revolution. Reform and change will come on a step by step basis. The Tory Party is the party of ideology today. We are the party of practical idea. They the extremists. We in the centre ground'
Blair sought to make Labour the 'party of patriotism. Following the introduction of Fitz the Bulldog to the campaign, Blair defined a 'bogus patriotism' on the right:
'I am proud of my country but ashamed to see it reduced to this state…'We'll stand up for British interests but I do not believe that being pro-British is being xenophobic'
Peter Mandelson declared Fitz to be the symbol of New Labour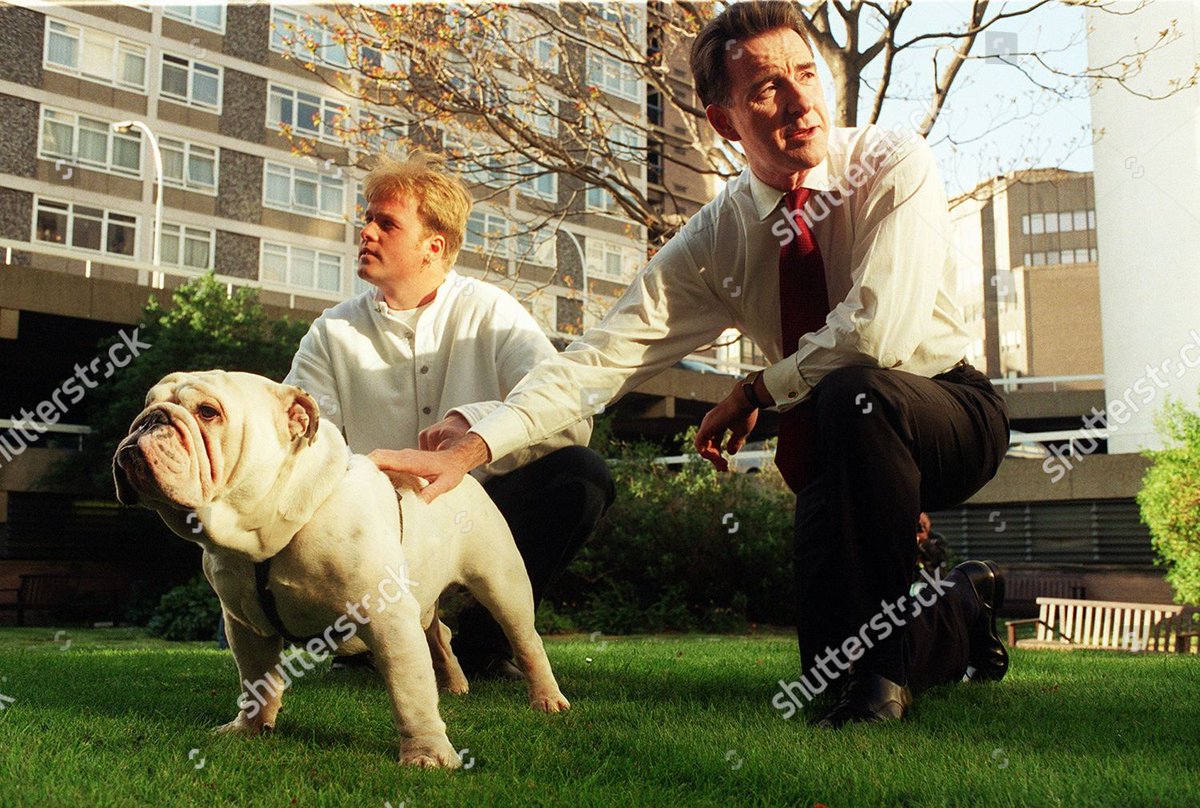 'Some may be surprised that we use the bulldog. But New Labour is the party of one nation and the bulldog is a way of saying this. It is an animal with a strong sense of history and tradition'.
Fitz became a mini star of the campaign and featured in a party political broadcast
https://www.youtube.com/watch?v=i0uouyO-whY&t=74s
'In a rapidly changing world we have rapidly lost our sense of purpose'.
On Europe, Blair argued:
'The thing that irritates the EU the most is they are dealing with a mess. That is what they resent. Britain has to have a consistent, serious and intelligent position, not one governed by the internal divisions of the government'.
As the campaign drew on, the Conservatives claimed that 'Blair is cracking up' believing that 'Blair shook with nerves before a TV interview' and 'he sweated profusely under press cross examination'. Major, 'a veteran of elections remained relaxed and calm'.
John Major went on the attack, accusing Blair of 'shameless hypocrisy':  'This isn't a manifesto. It is a shameless contract with hypocrisy…If Labour had a collective grandmother, they'd change her – if they thought there were a vote in it'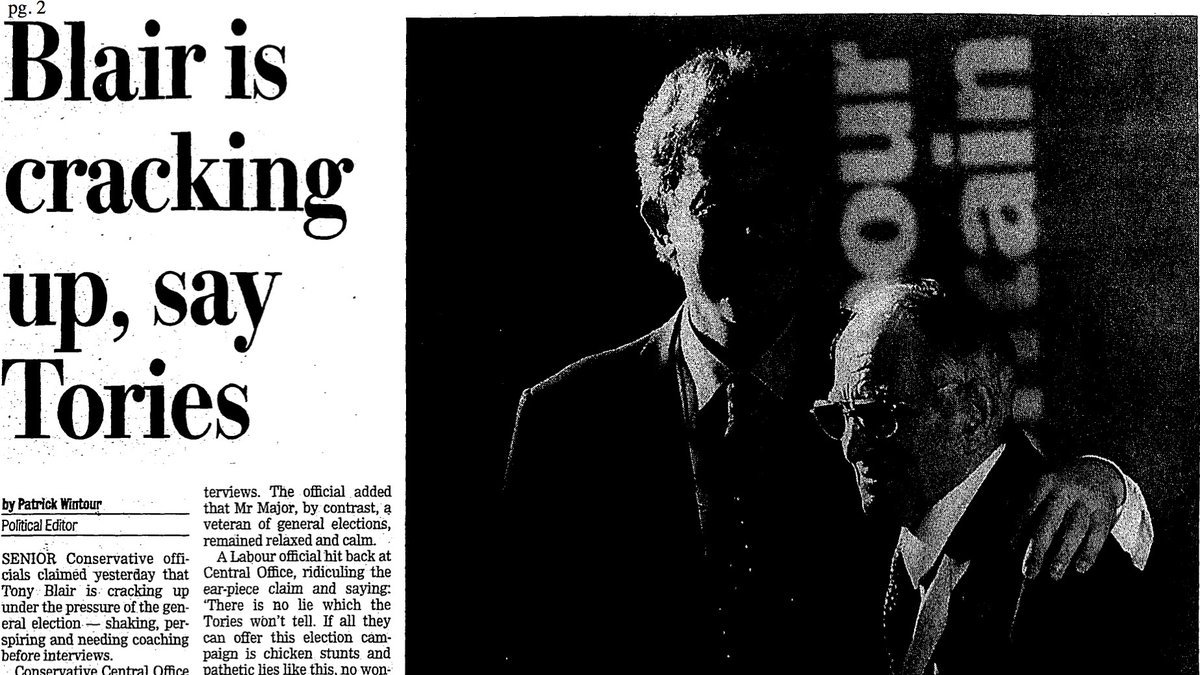 The press remained hostile to Labour in parts.
The Daily Mail claimed 'the truth is out. In his claims that the party has changed, Mr Blair has been getting away, figuratively, with murder'
The Express also claimed 'whatever success Tony Blair has had in projecting "new" Labour, the truth is Labour is still up to its traditional tricks'.
The press also attacked Mo Mowlam for putting on weight during the campaign.
Mowlam was forced to admit she had recently recovered from a brain tumour.
Mowlam claimed 'as a result of the radiotherapy and accompanying steroids I have both put on weight an lost my hair'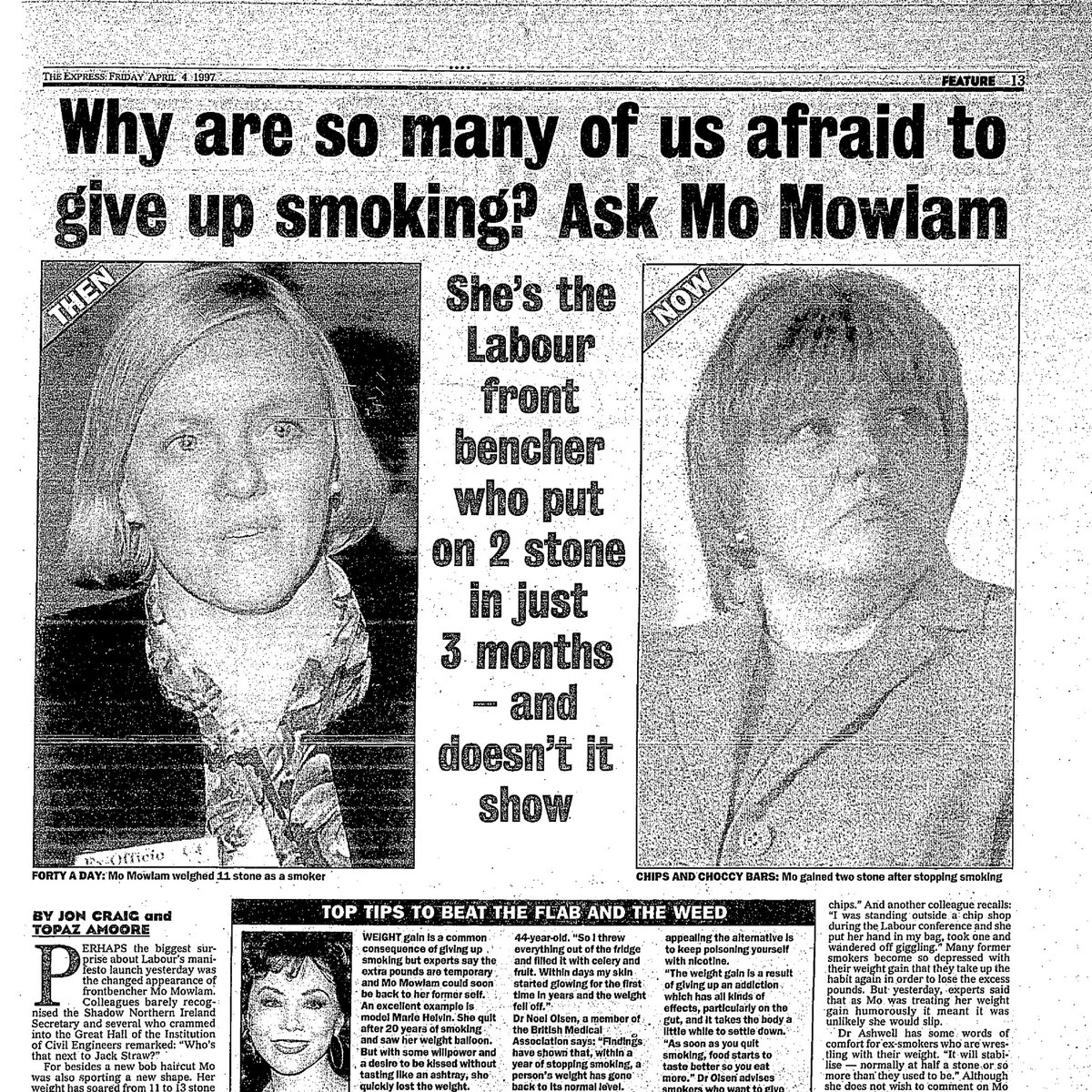 Tony Blair added his support: 'I have huge admiration for her courage and the determined way in which she has kept on working. She will be a big player in a Labour government'.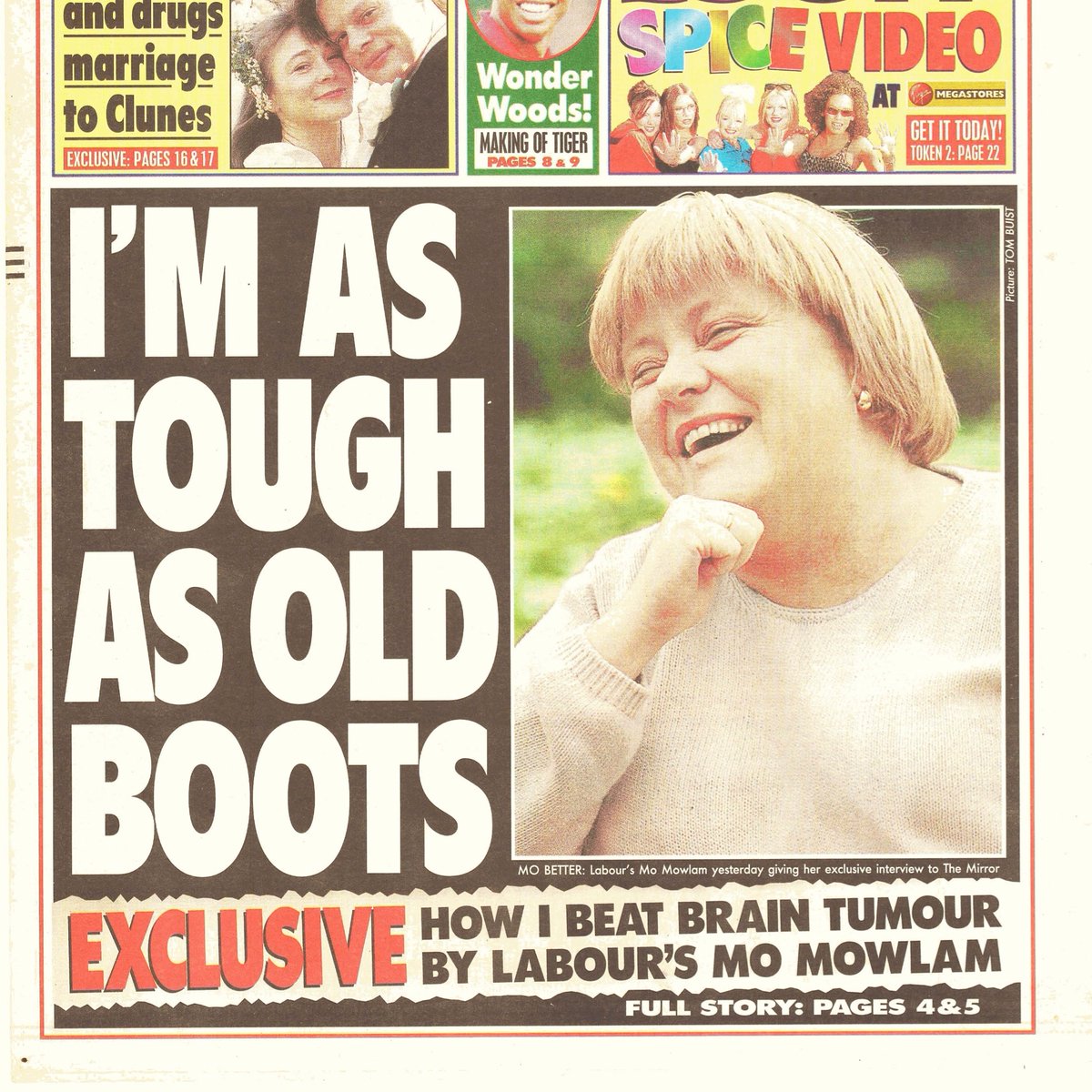 The issue of 'Sleaze', which had dominated the Tories five years in office, would again become an issue for Major. Major was criticised for not stepping in to prevent the adoption of Tim Smith and Neil Hamilton as candidates.
The opposition parties pulled out of Neil Hamilton's seat of Tatton in order to give the journalist Martin Bell a crack at winning the seat.
Bell and Hamilton clashed face to face on the campaign trail.
At the end of March, the Sun did an expose on Piers Merchantwhen he was caught kissing a 17-year-old aide in the park.
Conservative activists admitted defeat was inevitable:
'We're looking at two terms in opposition so the next leader will be blamed for the next general election defeat. That is why Hague will probably want to wait'
Writing in the Sunday Express, Edwina Currie predicted that she would lose her seat and that Labour would win a landslide. She predicted a 'bloodbath' to replace Major.
Senior Tories branded her a 'damn fool' in response.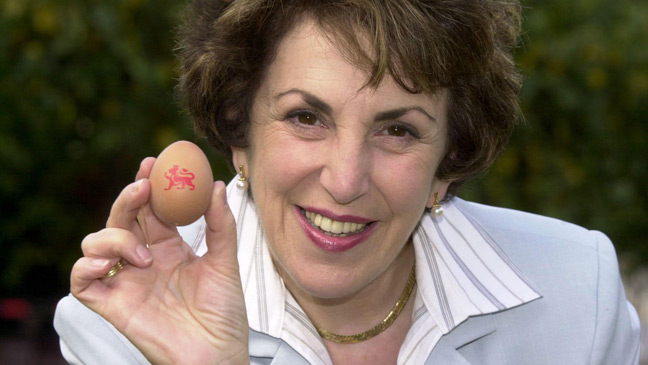 For the Tories, the Euro became the key issue:
Blair promised his own 'triple lock' which meant it would need to be accepted by Cabinet, Parliament and then by the public in a referendum:
'There will be no single currency without the people saying so. It will be Britain's interests first, second and third. No other judgement will apply'
Labour remained cautious about their mammoth poll lead. Peter Mandelson wrote:
'The broadcasters simplistic tit-for-tat coverage is playing into Tory hands. Our task for the rest of the campaign is to stop hope being driven out by fear'.
In the middle of the campaign, it appeared a Tory fightback might be on the cards:
'Labour's huge poll lead was breached by a dramatic shift' with them holding just a 5% lead.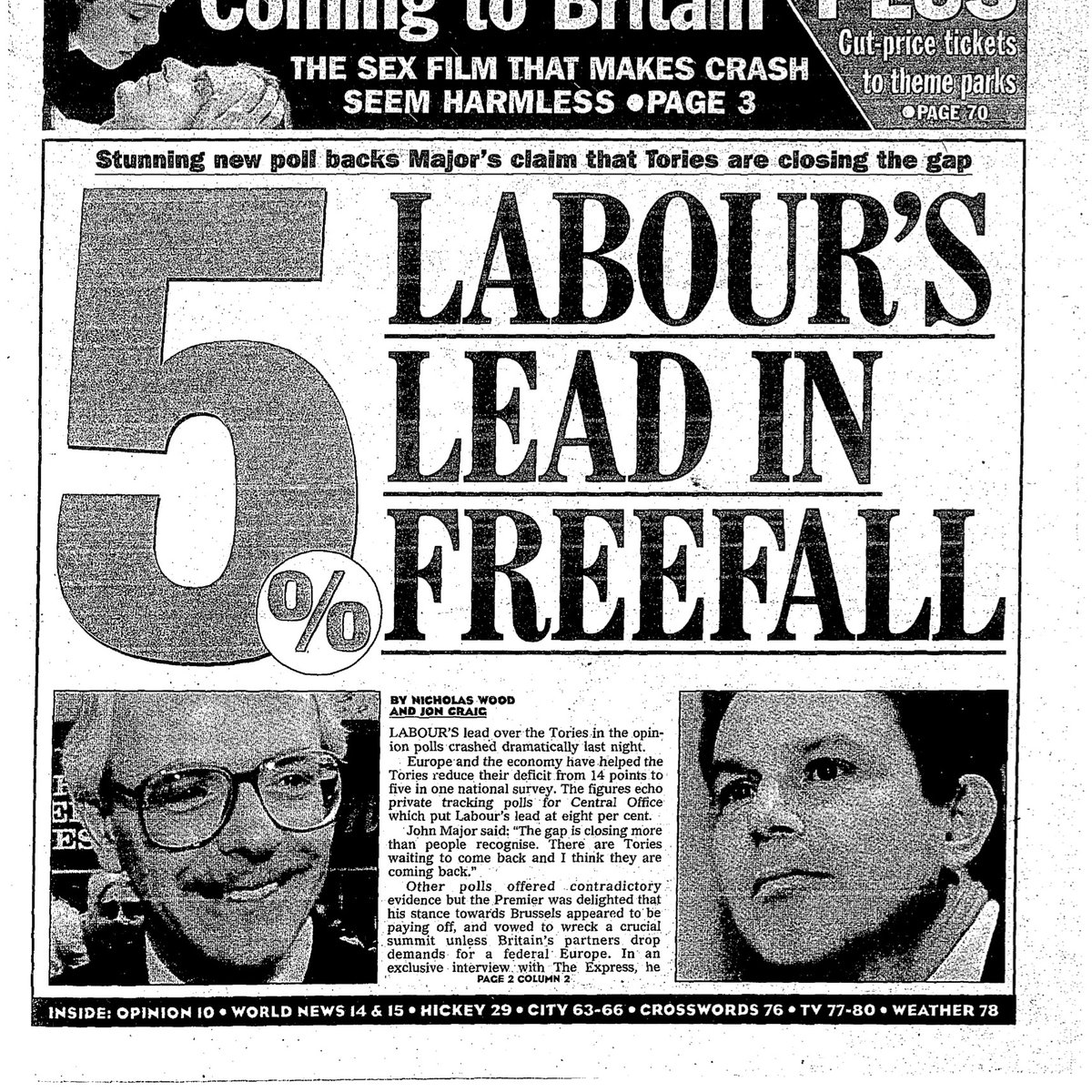 Margaret Thatcher intervened with an article In the Telegraph
'The whole of Mr Blair's strategy in creating the boneless wonder that calls itself New Labour is to reassure the electorate in its illusion. But illusion it remains. The only real choice at the next general election is between Conservative policies and soft socialist policies'
The truth is that the Labour Left doesn't believe in the party's apparently business-friendly policies — and the Labour leadership still doesn't understand the rationale behind them.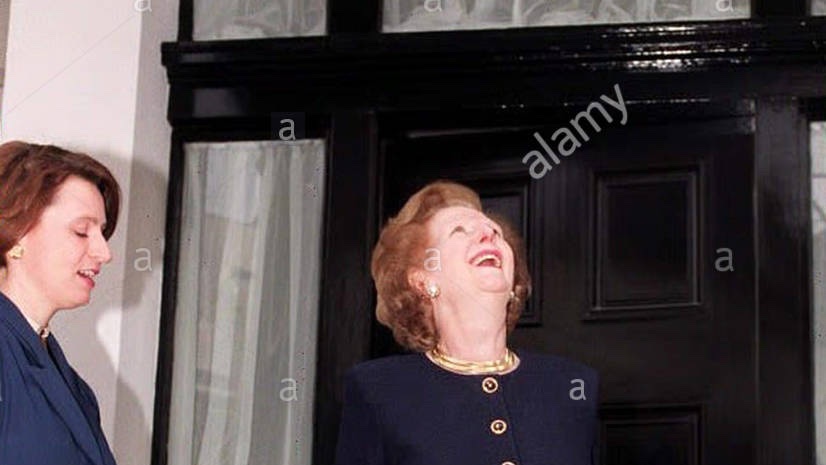 Full article here
https://www.margaretthatcher.org/document/108369
When Thatcher was asked whether Blair was her heir she claimed:
'Well I think they have got the sex wrong for a start. And I think they have got the willpower wrong. I think they have got the reasoning wrong. I think they have got the strength wrong'
'As I look along that Labour front bench some of them are true conversions but an awful lot of them don't look like Born Again Tories to me. They look like quiet candidates concealing their old socialism'
Martin Jaques and Stuart Hall disagreed and predicted another term of conservative rule under Blair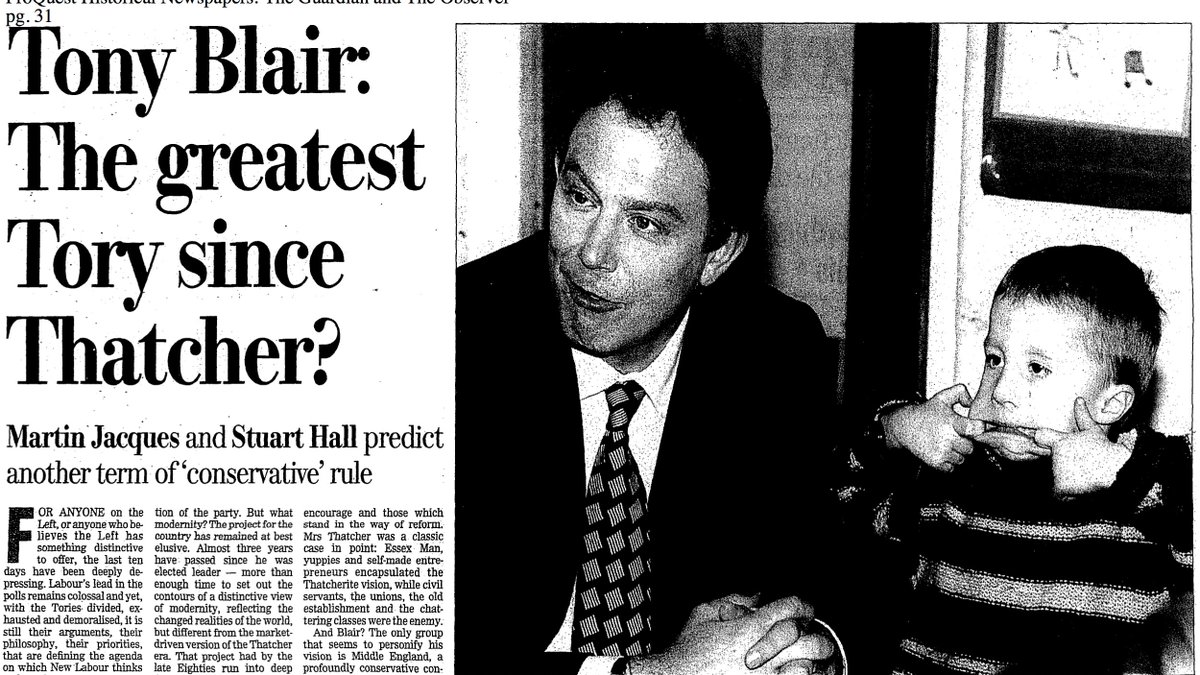 'any reforming party worth its name must address changes in a radical spirit and invent new ways of addressing these challenges from the left'
Ex MP Bryan Gould was also doubtful:
'Labour have been far too cautious. They have been terrified that somehow they could put a foot wrong'
The left also mounted a challenge to Blair. Arthur Scargill launched a new Socialist Labour Party:
'It's said you can't put a cigarette paper between Tory and Labour policies. I wouldn't contaminate a cigarette paper by trying to'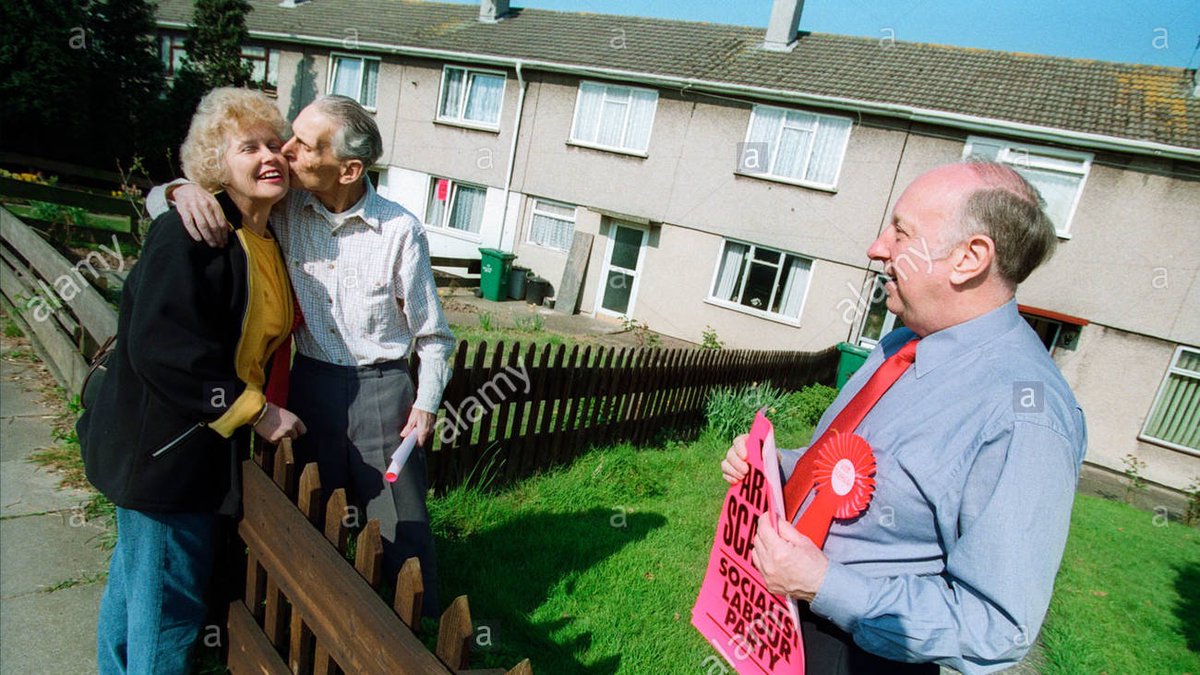 Tony Benn wrote in his diary:
'I'm totally out of sympathy with the politics of the Labour Party and maybe Blair will carry it off, get massive media support – but we will see. Polls show Labour ahead by 20%. I can't believe that'.
Peter Taffe, former leader of Militant refused to support Blair:
'Socialism to Blair is like holy water to the devil…Though Labour is heading for a landslide, it could be the beginning of the end for them. Just like 1906 was for the Liberals'.
On the campaign trail, Harriet Harman was shouted down at a Safeway's in Peckham by the Socialist Alternative as an 'out of touch toff' standing against the authentic left-winger Joan Barker.
A surprise backing came from Ken Livingstone: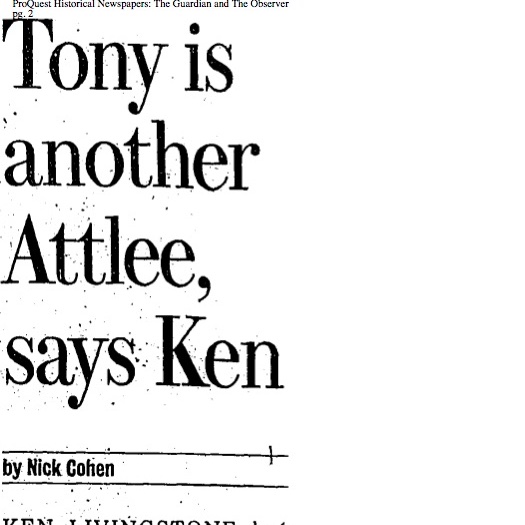 'I believe Blair will turn out to be our best Prime Minister since Clement Attlee. His reforms are here to stay. He has replaced sterile division within the party with genuine consultation and debate'
Labour enjoyed the support of key businessmen such as Alan Sugar and Richard Branson who came out in support of the party. Branson said he admired Blair but had doubts 'about the Social Chapter'.
Labour had strong celebrity endorsements, with Richard Wilson, Helen Mirren, Ross Kemp, Ben Elton and Noel Gallagher supporting publicly.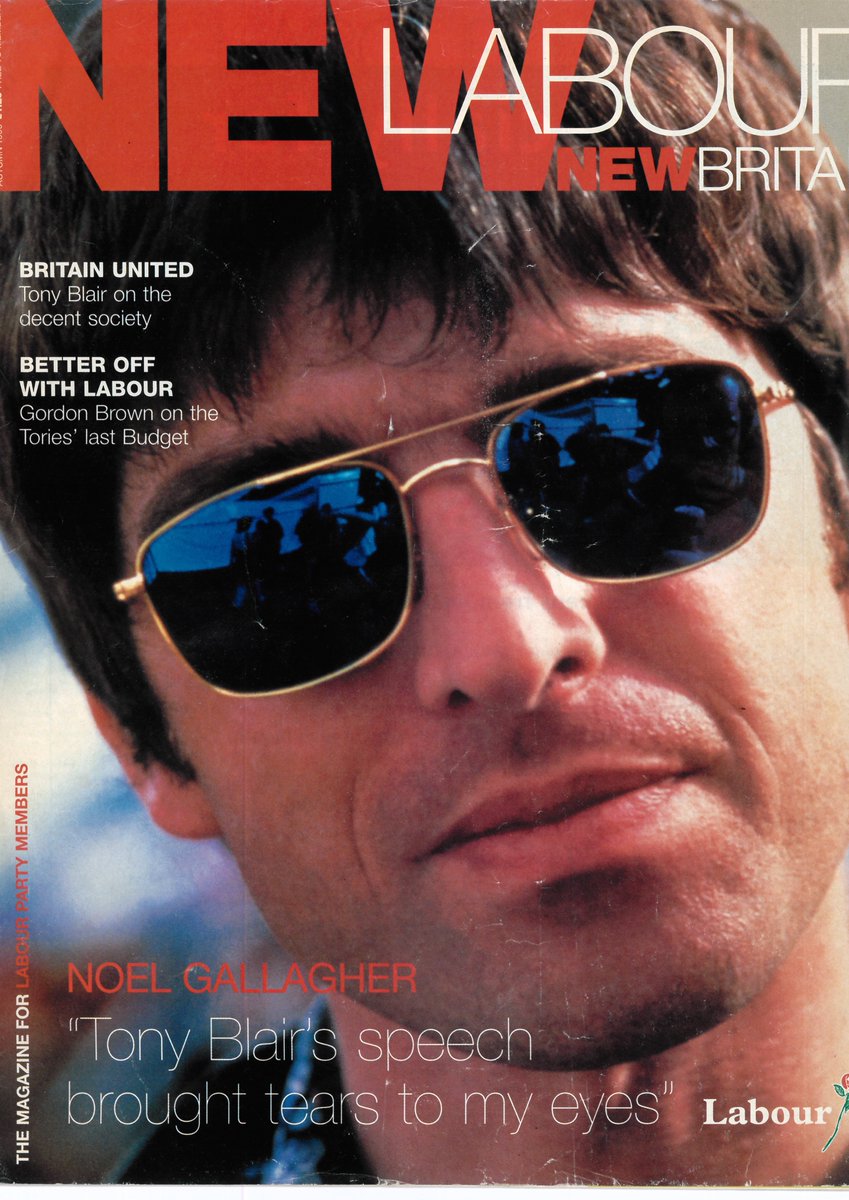 Alex Ferguson offered the advice:
'Your 4-2 up with 20 minutes to go. Your opponents are waiting for you to make mistakes. Then we kill em'
Blair also visited the set of Coronation Street.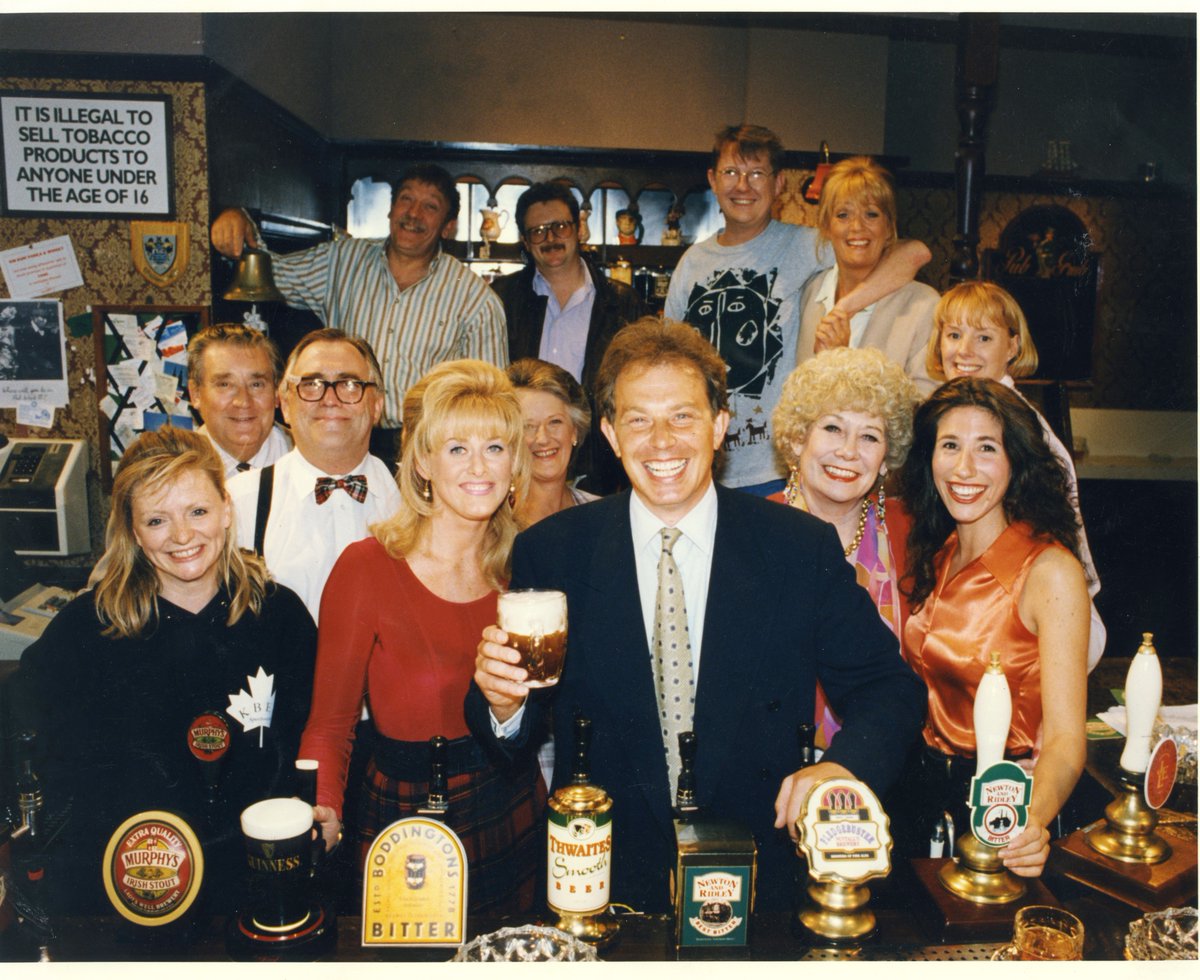 Corrie star – and future MP – Tracy Brabin penned an article for the Daily Mirror on the state of the NHS.
In a bid to win the youth vote, Labour sent out videos showing people how to vote.
Titled 'Do It' – it was aimed at 'the 3,000 first time voters in each constituency'.
https://www.youtube.com/watch?v=dmwqEg-06Ww
Labour adopted D:Ream's Things Can Only Get Better as its election theme tune. Frontman Peter Cunnah was 'delighted' his song for was chosen.
He said: 'Labour's message of hope is one I carry'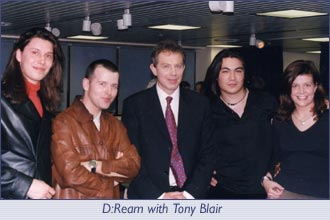 As the campaign came to a conclusion, David Blunkett wrote in Tribune that:
'We should take pride in offering the British people something different from the experience of the past 18 years – not by promising the earth and then letting them down'
Blunkett hoped:
'We will be in a position to lift out horizons, start on a marathon and not a sprint, working together to make sure that we never lose sight of our principles on which we determine our course'
Tony Blair set himself the standard: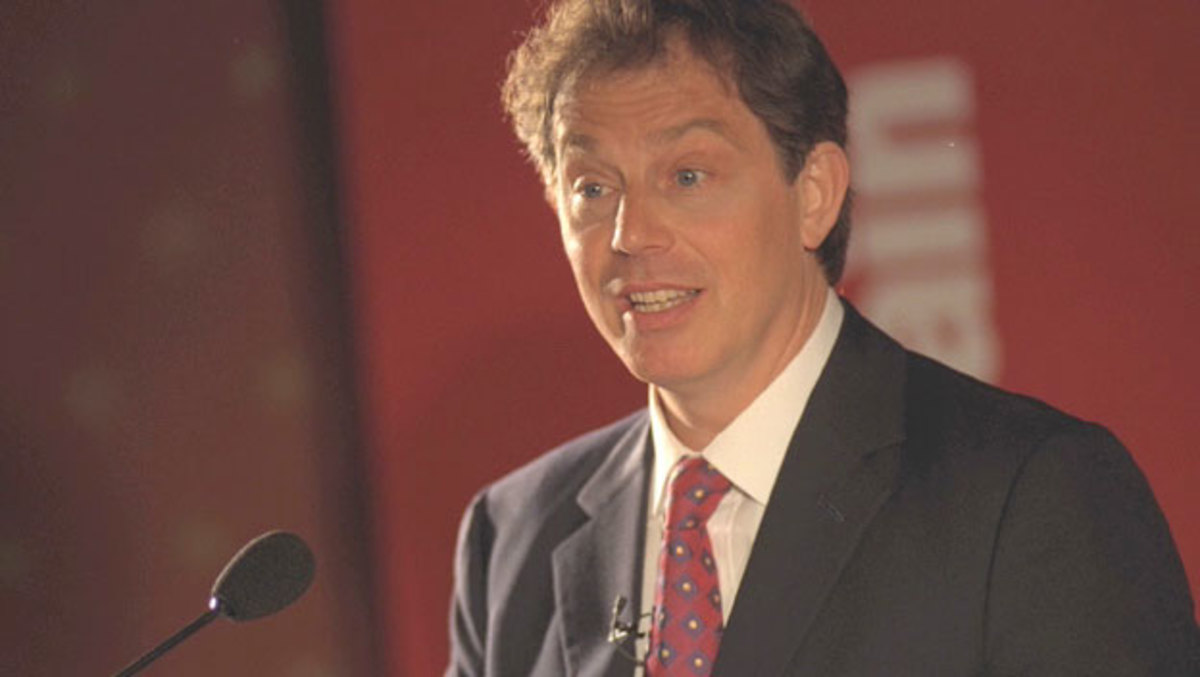 'If at the end of my premiership we have not tackled the crisis in schools and tackled long-term unemployment then we will have failed'
'I want a society based on meritocracy and one in which your sexuality, gender and race are not important.
Blair proposed a more equal society:
'It is intolerable that you have large numbers of people who have to go to inner-city schools that are hopeless…and pensioners who are afraid to heat themselves every winter. I cannot do anything unless I am elected though'
He also defined himself against Old Labour:
'My simple thesis is that Labour tragically became stuck with the same polices while society moved on'
As the campaign drew to a close, Major focussed his campaign on devolution and claimed there were just '72 hours to save the Union'.
Major declared 'Labour are a fake. There is nothing underneath there that is real solid policy'
Blair spoke at a final rally in Stockton Upon Tees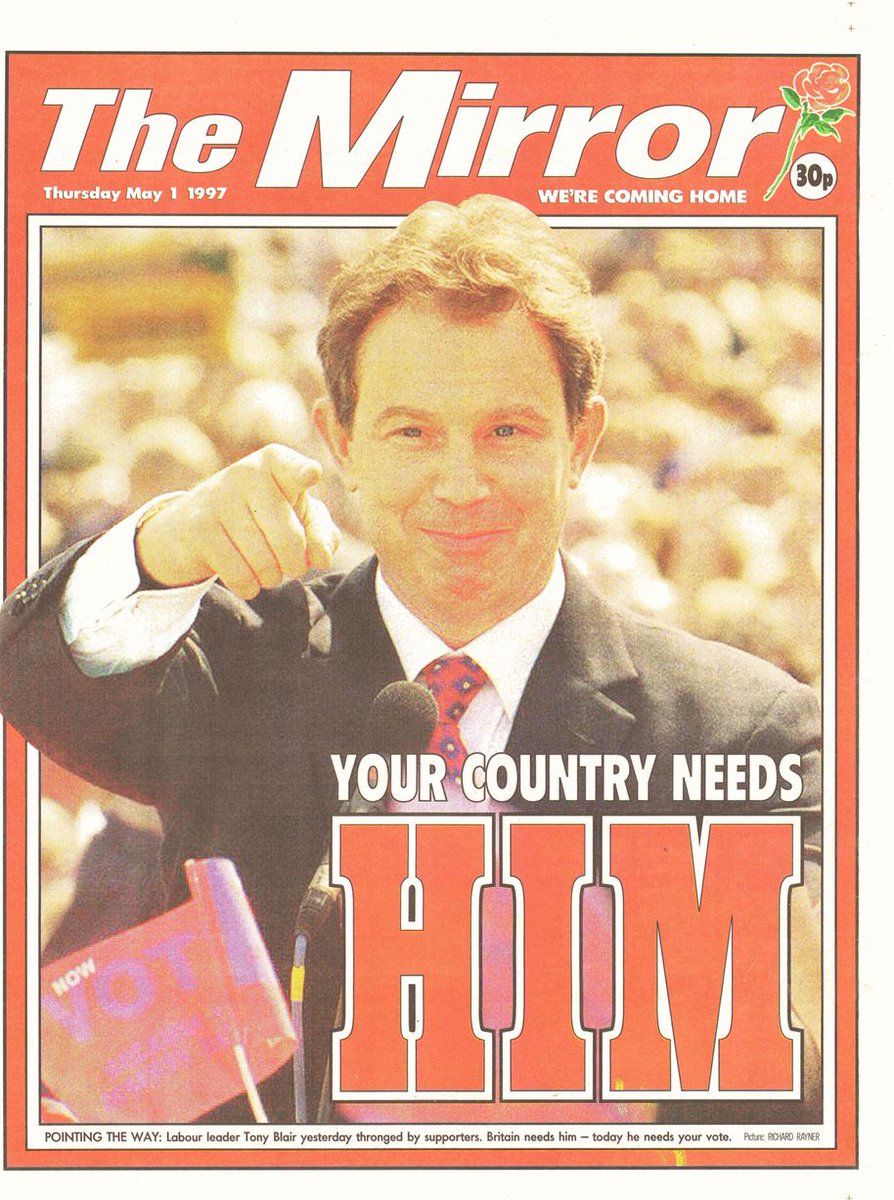 'This is not a landslide country. Between now and when the polls close we will strive for every vote in every corner of the country'
He admitted
'There are times in politics when you must be on the right side and lose. This time, at last, I believe we are going to be on the right side and win'
The night before polling day, Blair expressed concern to Phillip Webster at the Times that he was running a story showing a Labour landslide likely.
Blair claimed people would not go out and vote after reading the headline.
Giles Radice predicted in his diary that 'it will be close…between a 15 and 20 seat majority'
In the end, Labour were returned with a majority of 179.