England. Summer 2001. A second consecutive Labour Landslide. As many commentators pronounce the 'Death of Conservatism', the Tory Party seek to find their next election winner. They promise to 'listen and learn' from Blair's 'New Britain'.
Somehow they end up with Iain Duncan Smith. 
The leadership of William Hague had been a tough one.
Struggling to carve out relevance, the party was dogged by divisions on Europe, Immigration and social reforms
Labour had shown competence in the first term and led the Conservatives in opinion polls for nine-years
The Sun was not 'slavish' in support for New Labour as is often argued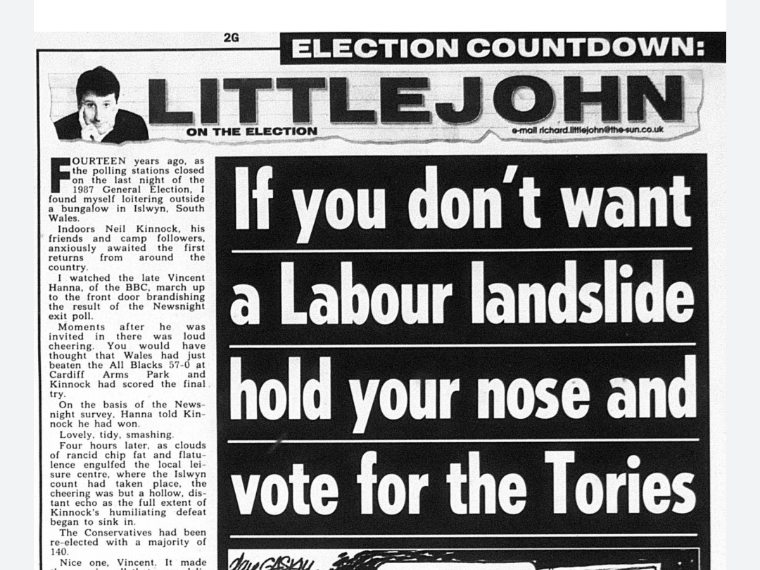 It did back Labour in 01 but urged readers to still vote Conservative
'if you think Blair has let you down.If you don't like Tony Blair, don't sit at home and do nothing. Get out and vote Tory instead'
The Sun claimed to admire both Blair and Hague with 'two good men locking horns'

Richard LittleJohn, however, was more strident, urging readers to protest against New Labour to halt another landslide.
The Daily Mail could not even bring itself to put politics as the lead story on election day. Instead – running with a story about Michael Barrymore.
Labour were returned with a second substantial landslide victory.
On a low turn out, the party held a majority of 166. It was the first time the party had managed to secure two consecutive full terms in office
Hague immediately gave a gracious admission of defeat speech:
'I congratulate Labour on their victory…when any party is elected to the immense task of governing our country it is right that we should all wish them well'
Hague added:
'We are privileged to live in a democratic country and we must respect the verdict of the voters and listen to what they said'
Shaun Woodward – who switched parties having masterminded the 1992 Tory victory – dismissed his old party:
'There was no way I could stay in an extreme right-wing party that didn't believe in society and believed in a divided Britain leaving people to fend for themselves'
Thatcherite Grandee Leon Brittain called the Tories campaign a 'huge strategic misjudgement in focussing in on Europe and Asylum'
'It gave the impression of a party that was shrill and extremist. The euro-sceptic card was played for all its worth and it was easy to trump it'
Anne Widecombe claimed it was not the leadership at fault claiming Hague had kept the party together, done better than pollsters suggested and fought a 'very cool and very brave campaign'.
She claimed that in years to come people would wonder why the campaign had been so unpopular. 'We may not have got a victory but we have done the right thing'
Widdecombe claimed that it had been the Tories 'duty' to raise awareness to the loss of 'self-determination' over Europe, regardless of its electoral viability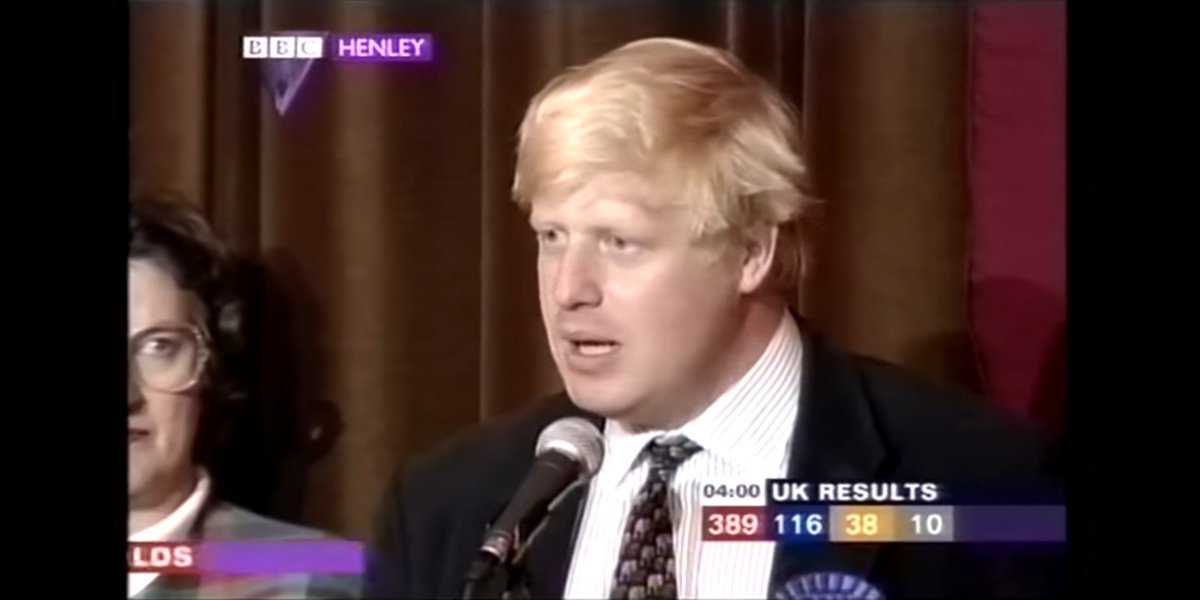 Newly elected MP Boris Johnson promised 'other brilliant nights' for the Tories in the future
'Things will get better…Its light through the windows and it's the darkest hour that comes before dawn…We will be back, we will return and we are capable of re-generating ourselves'
On the BBC Election Night coverage, Professor Anthony King lauded 'Boris'
'He is a genuine character and the House of Commons is increasingly a character free zone…I think people of all parties will be glad to have him back'
Andrew Marr revealed a story about why Johnson gave up journalism for politics
'When he was asked why he left (Johnson) said 'they never put up statues to the critics do they?'
Boris Johnson was asked about the state of the Tory party:
'The country don't think we've got it yet…They still don't think we see what they don't like about us'
'They wanted to punish us in 1997 and I think they've got into the habit of punishing us…and they don't see any reason to stop'
'We've got to give them a good reason to vote us in to government'
Boris added:
'The party will recover…it's got great powers of rejuvenation like the human liver'
Johnson was then accused of being closer to New Labour and perhaps stood for the wrong party due to his 'liberal' election address:
'I think my message was core Conservative values'
Michael Heseltine accused Hague of playing to his base:
'He should have concentrated on the Tories that left us in 1997…the problem today is to win them back against a background of social change which is not really reflected in the thinking of the Tory Party'
Heseltine argued
'They got painted into an extremist position, the language of the European debate, the 20 billion of tax cuts, the issue of asylum and law and order, the 'foreign lands' speech, it all added up to an image of a right-wing xenophobic party talking to itself'
The debate turned to whether the Conservatives could survive in Modern Britain:
'for the first time in a hundred years you can imagine the Conservative Party becoming marginalised..it always stood for a certain vision of patriotism, a vision that New Labour has made look outdated.
The Sun dubbed it 'the death of the Blue Rinse Trinity'
'Does the party even have a future? Does anyone care?'
'The party no longer speaks in a language that the ordinary men and women of Britain can understand'
The Sun even dismissed the right-wing nature of Hague's campaign
'He hammered home a message of saving the pound, checking illegal immigration and standing up to Brussels.
'All important issues – but not what the voters wanted to hear over and over again in 2001'
Michael Portillo emerged as the bookmakers favourite to modernise the party and bring it into the 21st century. This made him a target for 'traditional' supporters.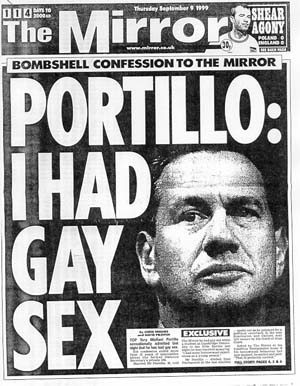 Anne Widdecombe was quick to attack him and his supporters
'I cannot serve Michael Portillo – It is as simple as that…The problem would be that little band of backbiters that surrounds him'
Portillo offered his take on the changes needed to win support:
'I believe that unless the party makes major changes in its style and the issues there is a danger that we actually go further down in public respect'
'In our demeanour and our tone, we must show that we are thoughtful, understanding and moderate'
'We must show we are people like other people and that our concerns are their concerns'
The strongest candidate from the right was seen to be Iain Duncan Smith:
'You mustn't run yourself in accordance with what the Westminster metropolitan lot tell you. The leader of the party has to have an everyman feel about him'.
The issue of families became an important one and was seen as a coded attack on Portillo.
In 1999 Portillo had admitted to having 'gay experiences' at University which led to a debate within the party.
In what was seen as a 'gay smear', Norman Tebbit indicated that Portillo's gay past should rule him out of the leadership.
He backed Iain Duncan Smith as a "normal, family man with children".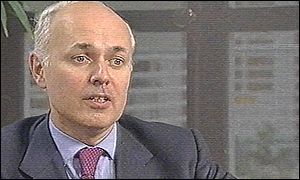 In a side-swipe at Portillo Ian Duncan Smith claimed
'I know what it's like to bring up kids'
'If you define normal as being the majority experience, then bringing up kids in a marriage is the majority experience'
In a coded attack on Labour's gay rights agenda, IDS added:
'There are alternative lifestyles and you accept that. People choose to live in different ways. But you don't throw away the majority experience simply to say we tolerate alternative lifestyles'.
A poll conducted for the Daily Mail, 179 out of 265 Conservative Party Chairmen believed 'homosexuals should have the same rights as everyone else' in what was reported as an acceptance for 'Portillio's past'
John Major was clear that the party needed to reflect change:
'We need to focus on the things that the public really cares about and it's pretty clear that means health and education'
'Europe is important but for most people its lower down the scale'
Major called for the party to ditch the ideological baggage:
Over 20 years there has been a divergence between the movement of public opinion and the Tory response'
'If we wish to continue losing elections let us remain exclusive, let us strive for ideological purity'
IDS admitted the need to 'broaden out' but 'we must not abandon our values'.
He called for marriage tax breaks and to 'restore belief in the family as his key objective'
'We will always be tolerant of alternative lifestyles but we must always support the concept of the family'
David Davis threw his hat in the ring
'We must be true to Conservative principles of choice….but we cannot hide from the 21st century and the real world in which we live'
Anne Widdecombe considered standing and visited a council estate to set out her agenda.
'This estate, which is by no means the worst of its kind, encapsulates one of the nastiest aspects of life in Britain but is effectively ignored by politicians'
Calling on the 'Forgotten Decents' she spoke of the need to:
'Revolutionise places like this where mothers can't let the kids play out without checking for needles'
Widdecombe decided not to stand knowing she could not make the ballot through MPs support
Ken Clarke was seen as the public choice. An opinion poll put his popularity with the voters at 34% compared to 21% for Portillo and 11% for IDS.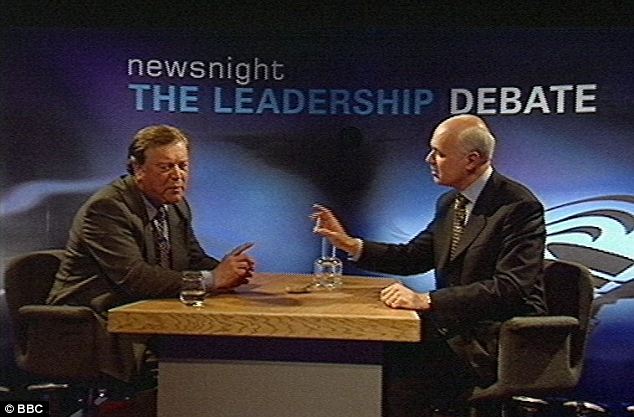 Clarke believed the party was in a state of denial about the result:
'The party has not yet totally appreciated what an absolutely crushing defeat it was. It was worse because it was the second time'
Clarke launched his bid for the centre-ground:
"I do not think we can win an election from the right. What we have to do is to get into the so-called moderate ground."
He defined himself as an 'a moderate, centre-right politician who believes in market economics but believes it can be combined with a social conscience'
The leadership became a battle between IDS and Ken Clarke. Europe became a dominant issue.
Margaret Thatcher made an intervention:
In a letter to the Daily Telegraph, she threw her support behind Iain Duncan Smith and said Ken Clarke would steer the party to "disaster".
In a TV debate, they focussed on Europe
Clarke urged moderation:
'Isn't it right that we should ask how are we going to appeal to people who were voting against us, people who vote for pro-European parties like the Liberal Democrats; people who vote for New Labour'
IDS focussed on the issue of the Euro
'I'm not going to be voting for the single currency, I think for constitutional reasons it isn't going to work for us. I actually don't, by the way, think it's going to work for the rest of Europe…'
After a bitter campaign, Iain Duncan Smith beat Ken Clarke in the ballot of party members.
It was the first time the party's leader had been voted for by the party rank and file.