May1970. Barbara Castle's Equal Pay Act receives Royal Assent.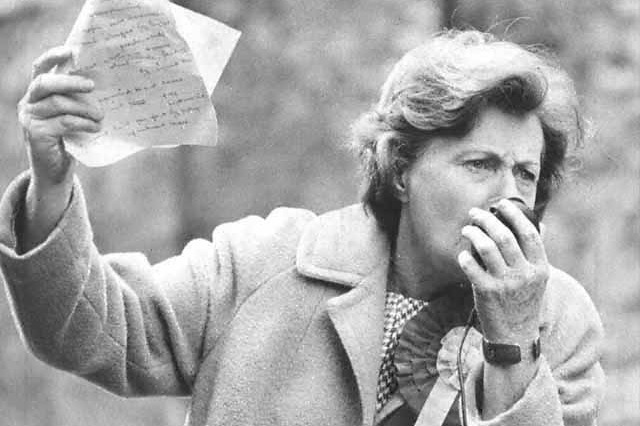 After decades of campaigning, the bill enables women to make a claim for equal pay if they do the same job as a man.
A look back at her battle to introduce equal pay for women #EqualPayActat50
In 1946, the Royal Commission on Equal Pay concluded tentatively that women in teaching and certain grades of the civil service might benefit from equal pay.
In June 1947, the Chancellor Hugh Dalton rejected the demands believing that the cost would be too high as he grappled with dire economic conditions.
Barbara Castle was quick to criticise the move: 'while women fully appreciated the country's economic difficulties they would be deeply disappointed at the suggestion that they alone should be expected to forego any satisfaction of just claims owing to inflationary pressure'.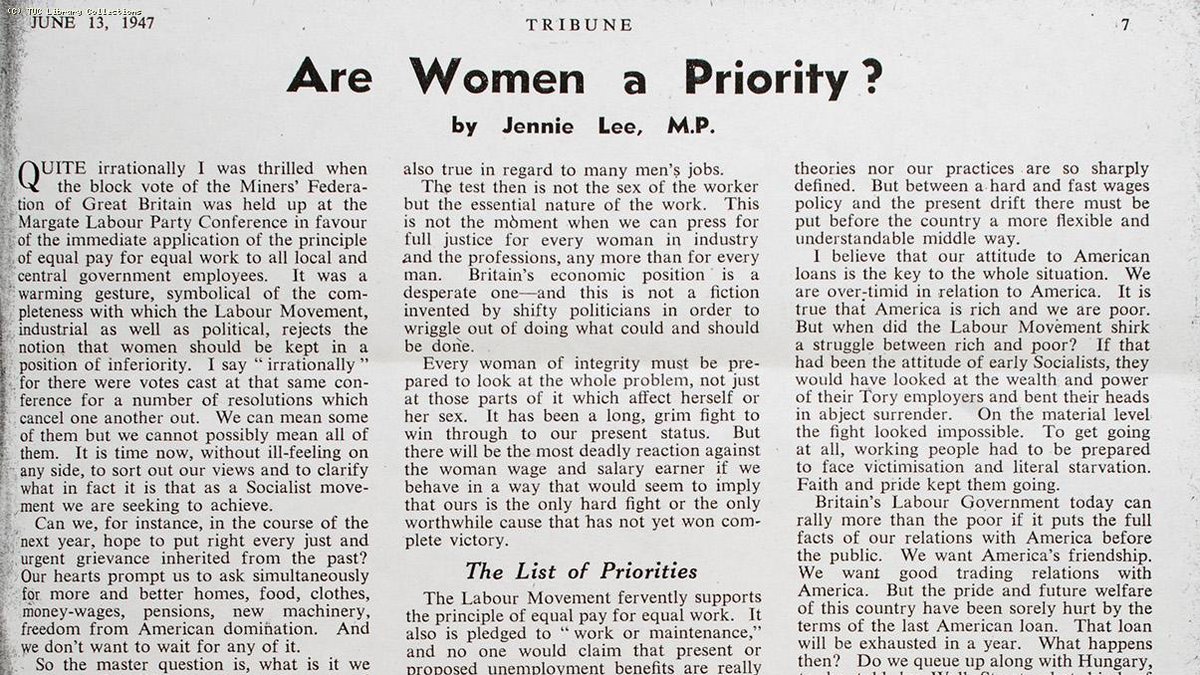 Jennie Lee used Tribune to support the Government decision that equal pay cannot be a priority during the post-war economic crisis. Lee was said to have told Castle that it could not be won while miners wages were so low. Castle replied 'In that case, we will wait forever'
Castle chose to work with opposition MPs to pursue the equal pay legislation. In 1954 she presented an 80,000 signature petition to Parliament demanding Equal Pay for women.
She worked alongside Ulster Unionist Patricia Ford, Conservative Irene Ward and Labour MPs Edith Summerskill as part of the Equal Pay Campaign Committee's campaign
In doing so she was heavily criticised by fellow MPs such as Alice Bacon and Elaine Burton.
On 25 January, 1955, Tory chancellor of the Exchequer Rab Butler pledged that there would be pay equality in the 'non-industrial' civil service by 1 January 1961.
A trade union official declared: 'The door has been opened to the biggest wage claim of its kind'
But as the Daily Mirror satirised in a cartoon, there was a feeling that 'all women are equal but some are more equal than others'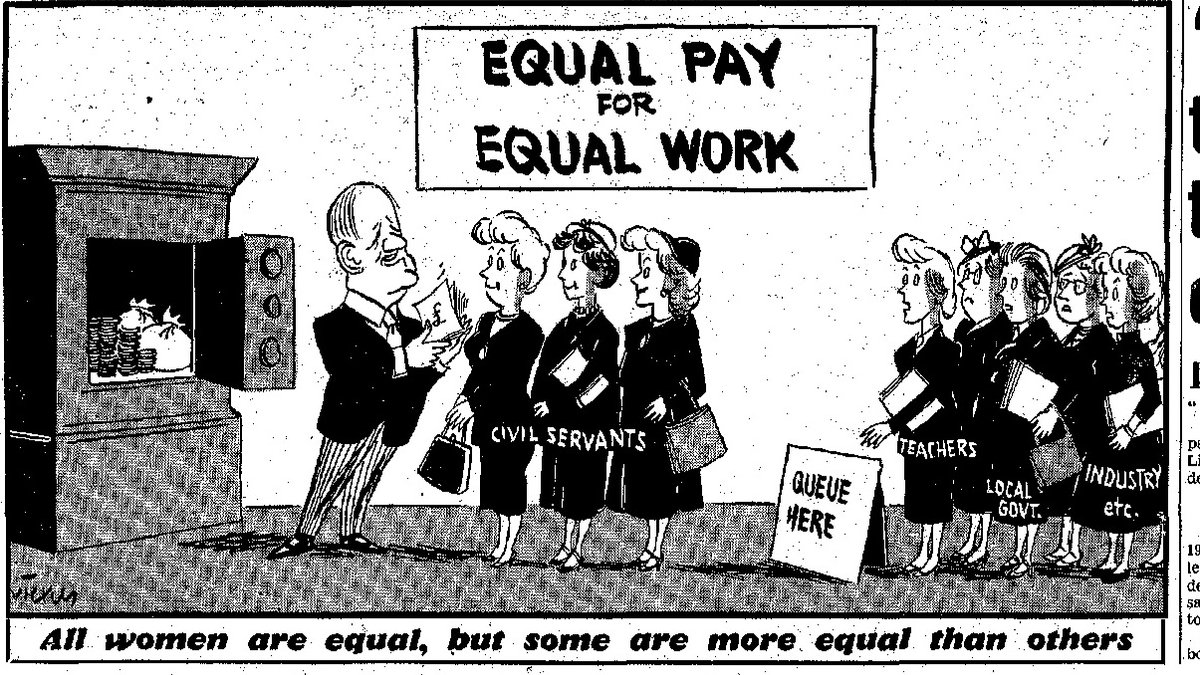 When Labour returned to Government in 1964 there was an expectation that equal pay would become a key piece of legislation. 
'The right to equal pay for equal work' was in the manifesto.
In mid 1968, further pressure was placed on Wilson to bring about equal pay. In May Labour backbenchers attacked the inaction of the frontbench,
Manny Shinwell asked why it had not been implemented while Renee Short claimed four million women were being used more or less as slave labour.
The TUC Congress passed a resolution calling on the Government to ratify equal pay as Barbara Castle watched on.
Castle was attacked by one delegate 'She has equal pay for equal work; why should not the rest of her sex'
At a fifty year celebration of women's right to vote, Joan Vickers claimed 'we are demanding to be freed of the last shackles of serfdom'.
Summerskill attacked the failures of successive leaders:
'In the 30 years I have been in Westminster, each successive Minister of Labour tell us how his heart bleeds at the gross exploitation of women, but explains, with crocodile tears that this is not the moment to remedy the grave injustice'.
The Labour Cabinet were spilt on the issue. Richard Crossman noted in his diary that Jenkins, Crosland and Marsh were opposed.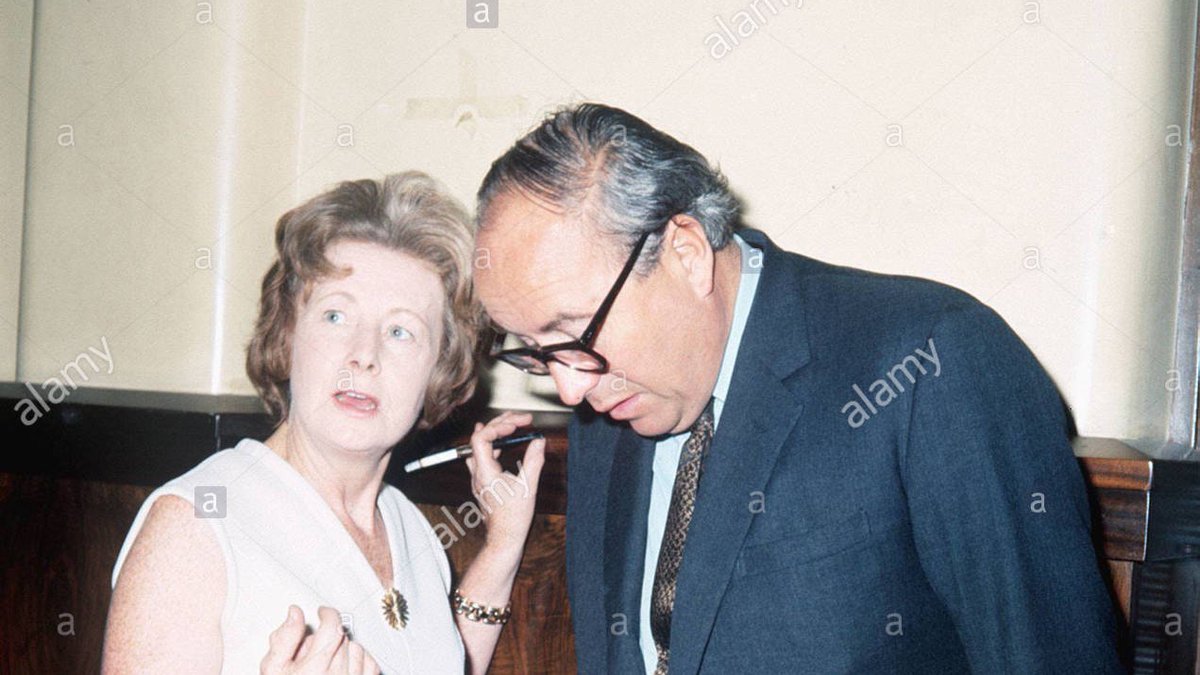 Then on 7 June, 1968, the Ford machinists at Dagenham went on strike after they had been graded as a 'B', when men doing a similar job elsewhere in the factory were given a higher grade of 'C' – skilled labour.
Made in Dagenham – dramatising the story of the strike – is available to view here
https://www.bbc.co.uk/programmes/b01rcc33
In the 1969 Queen's Speech. Labour finally commit to an Equal Pay Act.
The Queen announces "Bills will be brought before you to promote improved industrial relations and to provide for equal pay for men and women."
By September 1969, the CBI was 'ready to fight the equal pay plans' claiming that it was a 'luxury that the country cannot afford'. The CBI wanted to wait until the balance of payments had been fixed.
Frank Cousins (TGWU) urged Labour to take 'immediate and effective' steps to bring about equal pay
'Unfairness should be stopped immediately. We are giving notice that we have tolerated it too long'
In January 1970, Barbara Castle finally brought her bill to the House.
'We are witnessing another historic advance in the struggle against discrimination in our society, this time against discrimination on grounds of sex'
Her intention, she said, was "to make equal pay for equal work a reality, and, in doing so, to take women workers progressively out of the sweated labour class".
At the time of the debate it was calculated that 'Britain has nine million working women making up 35% of the workforce. Only one in thirty earns the average male wage'
Barbara Castle had the support of Margaret Thatcher: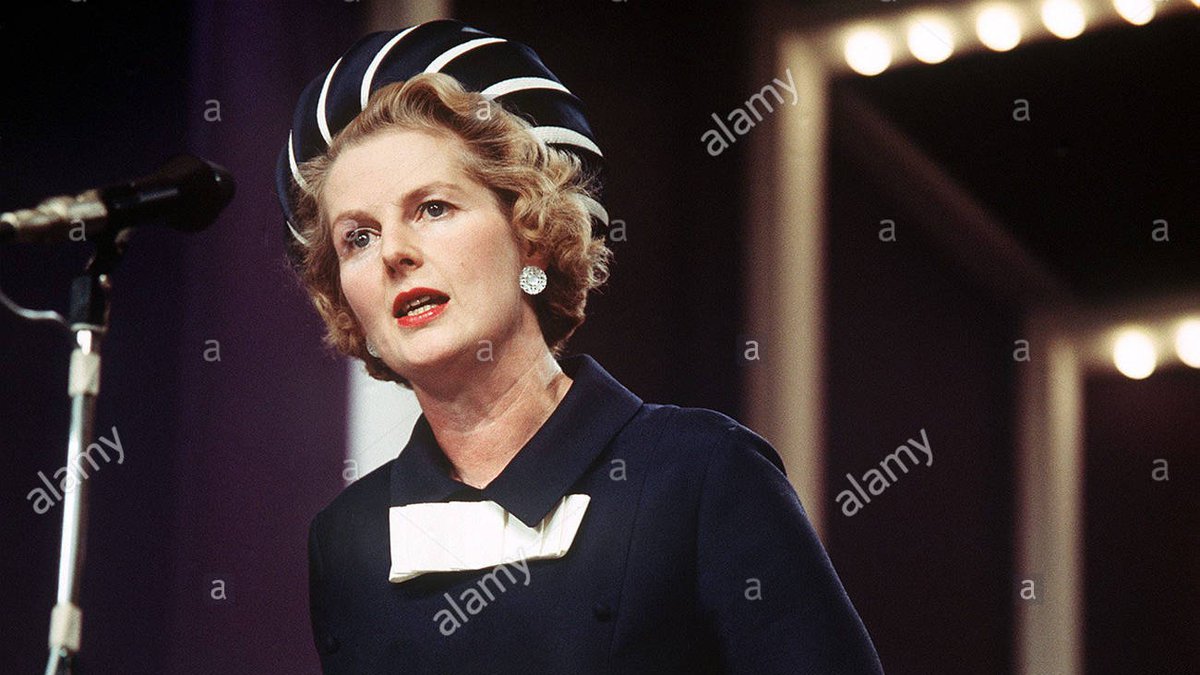 'When I was a pupil at the Bar, my first master at law gave me a very sound piece of advice which I tried to follow. He said, "Always express your conclusion first, so that people do not have to wait for it"……
'I therefore gladly express my conclusion first on the Bill. I welcome it, and join and others in congratulating the right hon. Lady on having introduced it'
'So many people have supported the idea of equal pay for so long that one wonders at the continuing inequality of payment between men and women. I believe that the Bill will lead to better pay for many jobs, and I support it as another step in the equal pay story'
Enoch Powell disagreed and called the second reading of the bill a 'Black Day' for the Commons.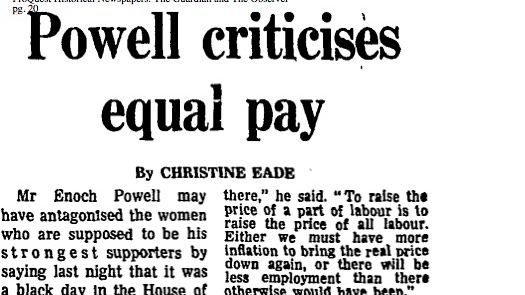 Barbara Castle reflected:
'I was determined to force the macho male chauvinists in the Treasury to accept the principle of Equal Pay'